Creative IT London provides professional Toshiba Satellite L850 laptop repair services to home and businesses across the United Kingdom. We keep pace with up-to-date technologies and our goal is to support our clients to utilise their notebook computers efficiently and effectively. We specialise in all forms of Toshiba Satellite laptop repair including upgrade, installation, part replacement and system maintenance support.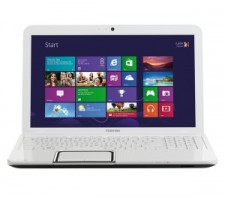 Be it anything from fixing a laptop keyboard or motherboard to total IT support, the Creative IT team has the expertise and resources to provide you with a complete London Toshiba Satellite L850 series laptop repair solution. Our component level repair technicians have the experience and skill to make a diagnosis quickly and work with various operating systems. We can repair all types of common laptop problems such as laptop display with coloured lines or blocks, laptop overheating and shutting down, one or more keys on keyboard not working, broken laptop display hinges and casing, laptop will not power up properly, laptop hard drive failure, laptop start up problems with blue screen, frequent software crashes, laptop battery not charging properly, no video / display on laptop, laptop rebooting continuously, laptop making unusual noises while booting, damage due to water or other liquid spillage, bad or defective laptop memory module, defective graphics processing unit (GPU), notebook slowdown issues, broken DC power jack, cracked or badly damaged laptop screen, laptop shuts down automatically, laptop not responding or sudden laptop freezing, Windows not booting up properly and laptop network related issues.
London Toshiba Satellite L850 and L850D Notebook Series Repair
Some of the London Toshiba Satellite L850 laptop repair services we offer are:
Motherboard repair and replacement
Laptop RAM / memory upgrade
Laptop screen repair and replacement
Hard drive upgrade and replacement
Keyboard repair and replacement
DC power jack repair and replacement
Operating system installation and upgrade
Virus removal and prevention
LCD screen inverter and backlight replacement
Laptop hard drive data recovery
Toshiba Satellite L850 and L850D Notebook series Support and Troubleshooting
L850-161 . L850-162 . L850-166 . L850-1D4 . L850-1D5 . L850-1EK . L850-1LK . L850D-12P . L850D-12Q
Pick up and Delivery, Walk in and Ship in Toshiba Satellite L850 and L850D Series Laptop Repair:
With same-day London Toshiba Satellite L850 laptop repair services, we will have your laptop computer fixed and running like new within quick turnaround time. A 90 day service warranty is assured with all our repair and replacement services. You can either drop off your laptop at our service store or ship it to our Central London store address.
Call us on 020 7237 6805 or email us at info@creativeit.tv for all your London Toshiba Satellite L850 laptop repair requirements. You can also fill in our quick contact form to receive an instant repair quote.