Creative IT, one of the leading Toshiba Satellite laptop repair service providers in the United Kingdom, offers quality Toshiba Satellite C850 laptop repair services to get your notebook computer up and running quickly and efficiently. Utilising the most advanced diagnostic and repair equipment, we are able to fix any problem you are having with your laptop computer, including all kinds of software and hardware issues.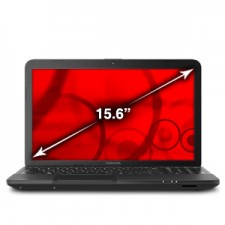 Whether it is for general Toshiba Satellite repairs, installation or upgrades or laptop dust and dirt cleaning, Creative IT UK is here to support you with a complete Toshiba Satellite C850 series laptop repair solutions. We can diagnose and resolve many issues that are common to laptop computers including constant computer crashes and system slowdowns, laptop won't power up or turn on, laptop screen shows no image / video (laptop blank screen), hard drive is not detected by BIOS, loose or broken DC power jack, laptop turns on but shuts off unexpectedly, broken laptop screen hinges, flickering laptop display, laptop restarts continuously, laptop power problems, horizontal or vertical lines across the notebook screen, motherboard failure, battery won't hold a charge, laptop battery charging problems, hard drive failure, laptop turns off or shuts down because of overheating, laptop fan makes weird noises, problem with the graphics card or graphics processing unit (GPU), laptop freezes randomly, bad memory module or slot, laptop starts loading Windows but displays blue screen error message, wireless connection not working, erratic keys on keyboard and we also specialise in troubleshooting and fixing laptop damage from water or liquid spillages.
London Toshiba Satellite C850 and C850D Notebook Series Repair
We have proficiency in a range of London Toshiba Satellite C850 laptop repair services including:
Component level motherboard repair and replacement
Laptop screen repair and replacement
Memory (RAM) upgrade or replacement
Optical drive replacement
Defective USB port troubleshooting / replacement
DC power jack repair / replacement
Keyboard and touchpad repair / replacement
Hard drive data recovery and data backup
Laptop screen hinge repair and replacement
Toshiba Satellite C850 and C850D Notebook series Support and Troubleshooting
C850-101 . C850-108 . C850-10C . C850-119 . C850-11C . C850-11V . C850-12M . C850-132 . C850-13C . C850-13D . C850-13E . C850-13X . C850-161 . C850-168 . C850-175 . C850-19D . C850-19Z . C850-1C0 . C850-1C1 . C850-1C2 . C850-1C4 . C850-1C9 . C850-1D2 . C850D-100 . C850D-107 . C850D-10T . C850D-11Q
Pick up and Delivery, Walk in and Ship in Toshiba Satellite C850 and C850D Series Laptop Repair:
At Creative IT, we provide a free quote before any London Toshiba Satellite C850 laptop repair service. We can fix most of the common laptop problems after an initial diagnosis and with the same-day turnaround. Some component level repairs are more complex and it may require further time or spare parts, but we ensure fast service within standard turnaround time.
Please feel free to contact us on 020 7237 6805 with any queries or to schedule a London Toshiba Satellite C850 laptop repair service. You can also forward your queries to us at info@creativeit.tv.