The ThinkPad T Series notebooks combine today's most advanced features with the renowned ThinkPad design. You can get it all with T Series – advanced NVIDIA graphics, and easy mobility, including Wireless WAN capability. It is very critical that every laptop computer functions effectively and consistently and that your private and important, personal and business data remain safe, secure and accessible when needed.
Our skilled laptop repair engineers and technicians diagnose faults sooner and have a preference to replace only the faulty laptop parts relatively than the entire motherboard. We perform our best to ensure that our valued customers get a hold of a more trustworthy IBM Lenovo ThinkPad T Series laptop repair at the lowest rates. We repair laptops for home users and small and medium-sized businesses in and around London.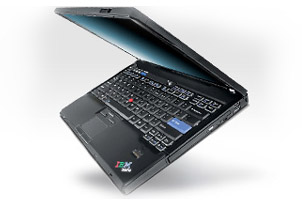 Unlike our competitors, we have the essential laptop spare parts in stock to troubleshoot and in particular hands-on experience to diagnose any problem accurately and quickly. We are able to repair, replace, and upgrade parts such as floppy drive, hard disk, memory, motherboard, keyboards, LCD/TFT, LCD screens, backlight, adapters, fan, hinges, and CPU.
At Creative IT, we help you to save money. Cost effective IBM Lenovo ThinkPad T series repair within quick turnaround time is our specialty. Our standard laptop repair turnaround time is usually within 24-48 hours. If you would like your Lenovo ThinkPad T series laptop to be repaired at your home or office, why not take advantage of our onsite Lenovo ThinkPad T series repair service in London, UK.
If you have any comments or suggestions regarding our London IBM Lenovo ThinkPad T series laptop repair, please give us a call on 020 7237 6805. Alternatively you can email us at info@creativeit.tv. You can come across customer care representatives with tailored commitments to meet each and every customer's repair needs.