Since its beginning, Creative IT has been providing a professional, reliable and cost effective IBM Lenovo ThinkPad laptop repair solution to our clients. Covering almost all areas in and around London, UK, Creative IT diagnoses and fixes hardware failure, software problems, and puts an end to other laptop related breakdowns. We focus in developing creative, cost-effective ThinkPad R61e laptop solutions for our clients, large and small.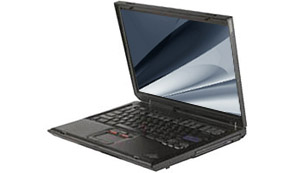 Whether it is a slow boot-up or upgrade or any other requirement to do with ThinkPad R61e laptop, Creative IT has the ability to bring back the laptop to top condition once more. We can repair a wide range of laptop problems including intermittent crashes, slow restarts, slow loading times, pop-ups, viruses, spyware, security issues and data backup issues.
No matter whether it is software or hardware support, help is available. We deliver the quality and speed of service larger service providers dream about. Customers always return to our personalized service. Here is a list of some of the repair services Creative IT offers to customers in and around London ' laptop maintenance repair and upgrade, virus removal, spyware removal, wireless network setup, wired network setup, broadband installation, data backup solutions, laptop data recovery and much more.
What makes us different ' Creative IT provides a unique ThinkPad R61e repair service for each client, maintaining a high level of customer satisfaction. Our services are available when you need them. Also, we provide effective diagnosis and rectification of laptop problems and faults in the comfort of your home or business location in London.
We are just a phone call away. You can contact us on 020 7237 6805. Call now for more information on how we provide IBM Lenovo ThinkPad R61e repair services. If lines are busy, please leave a message at our mail-id info@creativeit.tv. We will properly guide you through any issues you are having from LCD screen display problems to wireless networking.
Major laptop and notebook brands we repair and upgrade –
IBM,
Sony,
Compaq,
Dell,
Toshiba,
Apple,
Asus,
Acer,
Panasonic,
Packard Bell,
HP,
Gateway,
Fujitsu,
Lenovo,
Alienware
and
Advent.