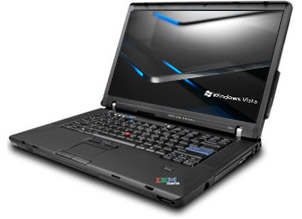 Welcome to Creative IT. We cover all your IT requirements covering PCs, laptops, and servers. Does your IBM Lenovo ThinkPad G40 laptop show several problems due to pop-ups, virus attacks, software/hardware error, display failure, or unintentional crash ' Creative IT is the perfect choice to find the right solution quickly within your means. Our team of experts is ready to repair any software or hardware issue on your ThinkPad G40 laptop computer.
Moreover we offer onsite ThinkPad G40 repair service in various cities of London. You can avail same day ThinkPad G40 repair if errors are not much critical. Our technicians will reach your premises immediately for call out services. They have up-to-date knowledge in laptop repairs and at the same time they are well versed in different IT platforms.
We can also carry out other services such as networking, upgrades, virus removal, router configuration, and data recovery/transfer in a professional manner. Creative IT is happy to have clients from every section of society. No matter the error is big or small. Our technicians are qualified to handle faults even from component level effectively within the time limit.
Are you anxious of high pricing of IBM Lenovo ThinkPad G40 repair ' We promise to charge minimal rates which nobody can surpass. In some cases lab support is needed for comprehensive ThinkPad G40 laptop repair, and then it may take maximum of 48 hours to return your system in peak condition.
Our technicians always suggest laptop part repair rather than a replacement as a replacement can cause more financial burden. However if laptop parts are severely damaged then replacement is advisable to keep the system running for long years. Don't waste time to find suitable laptop accessories. Creative IT has wide stock of second hand as well as original parts to suit your resources.
Have an IBM Lenovo ThinkPad maintenance contract with us to have a regular maintenance service for total peace of mind. You can also consult our experts for getting valuable hints to keep the laptop computer in perfect condition. They are very friendly and cooperative to share their experience regarding ThinkPad G40 repair. It is our pleasure to have a chat with you. Please do contact us at 020 7237 6805 in London, UK or send us an email at info@creativeit.tv for more details.