Is it a laptop repair company that is quite knowledgeable to undertake your IBM Lenovo ThinkPad A22p laptop for repair is what you need? You can trust Creative IT to offer you the best Lenovo ThinkPad A22p repair solutions and customer service in the industry.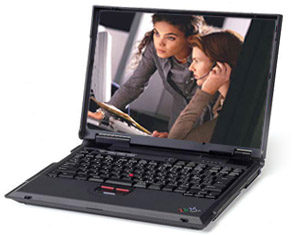 Welcome to Creative IT ' the professional and dependable laptop repair company dedicated to help you with all your repair needs. We offer quite a few different options for laptop computer services. Whether you need onsite IBM Lenovo ThinkPad A22p laptop computer repair service at your home and office in and around London, offsite repair in our well equipped workstation in Central London or remote online laptop repair services instantly through the internet we have the perfect solutions. No matter whatever be your ThinkPad laptop issues and needs, we strive to be your ultimate source for every laptop computer-related needs. In other words, we do our best to make sure that you get a reliable Lenovo ThinkPad A22p repair at an affordable rate.
What help us to stand out from our competitors are our outstanding technical experts. The technical experts at Creative IT have a wide range of experience to undertake any kind of issue you need to be resolved for your ThinkPad A22p laptop computer. Our experience goes beyond just repairing and upgrading hardware or software components of laptops, but also into data recovery and laptop networking repair and troubleshooting.
The range of IBM Lenovo ThinkPad A22p repair services include LCD display screen repairs, operating system installation, virus removal, password removal, data backup, motherboard repair and replacement, keyboard replacement, battery replacement, RAM/memory repair/upgrade, and CPU/fan replacement. As we maintain a complete inventory of accessories, we are able to help you to easily and conveniently find the specific hardware part or accessory that you need for your machine.
Would you like to know more about our IBM Lenovo ThinkPad A22p laptop repair services then contact us at 020 7237 6805 or e-mail at info@creativeit.tv. Our experienced customer care representatives would guide you appropriately. If you have any suggestions or comments regarding our repair services, please let us know.