Creative IT London is a full-service laptop repair store that provides complete Sony VAIO SVZ laptop repair support and other technology solutions for individual and business customers across the United Kingdom. We take pride in providing reliable laptop computer repair and upgrade services, each repair we provide is backed by a standard service warranty.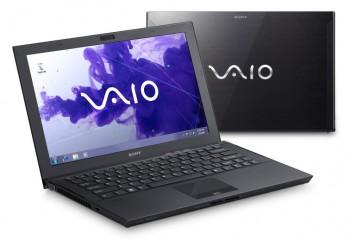 Laptop crashes or freezing may occur due to a number of reasons including overheating, conflicting software or hardware, defective components or virus infection issues. No matter, whatever the laptop issue, we have the expertise and equipment to provide you with the right Sony VAIO SVZ series laptop repair solution that meets your technical requirements. We fix all types of software and hardware problems associated with Sony VAIO SVZ notebook series laptop models including dead or unresponsive laptops, laptop does not start, laptop won't boot into Windows, blue screen of death error, bad memory slot on board / memory failure, notebook is plugged in but battery not charging, USB ports stopped working, hard drive failure, DC power jack loose or damaged, laptop shuts off while playing games, motherboard failure, laptop overheating, screen remains completely black or blank, laptop fan started rattling, distorted video display, laptop freezes randomly, optical drive makes noises, dust-clogged internal heat sinks, computer keeps restarting on its own, broken laptop hinges, defective laptop speakers, laptop shuts down randomly by itself, hard drive not recognised by computer BIOS, laptop won?t connect to WiFi, broken laptop screens, sticky keys on laptop keyboard, defective touchpad and liquid spillage laptop issues.
London Sony VAIO SVZ Notebook Series Repair
A range of London Sony VAIO SVZ laptop repair services we provide include:
Motherboard repair and replacement
Driver installation and updates
Laptop screen repair and replacement
DC power jack repair and replacement
Laptop battery and AC power adapter replacement
Keyboard repair and replacement
Virus detection, removal and protection
Hard drive data backup and data recovery
Graphics processing unit (GPU) troubleshooting
Hard drive and memory upgrade / replacement
Sony VAIO SVZ Notebook series Support and Troubleshooting
SVZ1311A4E . SVZ1311B4E . SVZ1311C5E . SVZ1311M9EX . SVZ1311S8EX . SVZ1311S9EX . SVZ1311V9RX . SVZ1311X8EX . SVZ1311X9EX . SVZ1311X9RX . SVZ1311Z8EX . SVZ1311Z9EX . SVZ1311Z9RXI . SVZ13114GXX . SVZ13116GXX . SVZ131190X . SVZ1311AFXX . SVZ1311BGXXI . SVZ1311CHXXI . SVZ1311DGXX . SVZ1311EGXX . SVZ1311ZDZB
Pick up and Delivery, Walk in and Ship in Sony SVZ Series Laptop Repair:
By performing a thorough diagnosis, we will keep you informed about the cause of the laptop issue, necessary Sony VAIO SVZ laptop repair actions to be taken and the upfront laptop repair cost. We offer flexible repair turnaround options including same-day repair as well as standard service turnaround. You can either mail-in your laptop computer to us or you may visit our store in Central London.
United Kingdom Mail-In Sony VAIO Laptop Repair or Upgrade
Bath . Birmingham . Bradford . Brighton and Hove . Bristol . Cambridge . Canterbury . Carlisle . Chester . Chichester . City of London . Coventry . Derby . Durham . Ely . Exeter . Gloucester . Hereford . Kingston upon Hull . Lancaster . Leeds . Leicester . Lichfield . Lincoln . Liverpool . Manchester . Newcastle upon Tyne . Norwich . Nottingham . Oxford . Peterborough . Plymouth . Portsmouth . Preston . Ripon . Salford . Salisbury . Sheffield . Southampton . St Albans . Stoke-on-Trent . Sunderland . Truro . Wakefield . Wells . Westminster . Winchester . Wolverhampton . Worcester . York
If you need more information about our London Sony VAIO SVZ laptop repair services, send us an email to info@creativeit.tv. You can also have a discussion with our service experts on 020 7237 6805.