Creative IT is a leading provider of top quality Sony VAIO SVT laptop repair services in the United Kingdom. We specialise in providing technical support for professional and home users, businesses and educational institutions.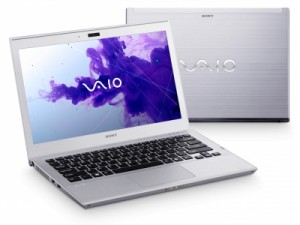 If you have a crashed notebook computer, virus infection issue, cracked laptop screen, require a hard drive data recovery, require a computer upgrade or just need your laptop to run faster and efficient, we are here to help you with Sony VAIO SVT series laptop repair solutions. Our expert technicians have the experience, skill and advanced diagnostic equipment to diagnose and fix hardware and software problems with just about every model of the Sony VAIO SVT notebook series. We work with all common laptop issues such as laptop beeping sound on startup, laptop starts to a blank screen, laptop turns on but no display on the screen, notebook turns on but doesn't boot, distorted video, error message during startup, liquid spill damage, laptop will not start up, CD drive or DVD drive is missing or not recognized by Windows, AC adapter issues, failure of the graphics chip or graphics processing unit (GPU), laptop battery reduced backup and charging problems, overheating battery, notebook running out of disk space, motherboard failure, random rebooting and shutting down issues, broken or faulty power connector or DC power jack, defective LCD screen inverter or backlight lamp, optical drive not responding, keyboard stopped working or is not responding to input commands, laptop freezes when connecting to a Wi-Fi network, faint images on laptop screen, LCD screen has lines or stripes across the screen, laptop overheating and other component level laptop problems.
London Sony VAIO SVT Notebook Series Repair
We specialise in all London Sony VAIO SVT laptop repair and upgrade services including:
Motherboard repair / replacement
Operating system upgrade / installation
Memory (RAM) replacement / upgrade
Hard drive replacement / upgrade
LCD screen repair / replacement
System tuning and optimisation
Virus removal and protection
Wireless LAN installation and configuration
DC power jack repair / replacement
Laptop hard drive data recovery
Sony VAIO SVT Notebook series Support and Troubleshooting
SVT1111A4E . SVT1111A4R . SVT1111B4E . SVT1111C5E . SVT1111M1ES . SVT1111M1RS . SVT1111X1RS . SVT1111X9ES . SVT1111Z9RS . SVT1112M1ES . SVT1112M1RS . SVT1112S1ES . SVT1112S1RS . SVT1311A4E . SVT1311A4R . SVT1311B4E . SVT1311C4E . SVT1311C5E . SVT1311D4E . SVT1311E4E . SVT1311M1ES . SVT1311M1RS . SVT1311V2ES . SVT1311W1ES . SVT1311X1RS . SVT1311X9ES . SVT1311Z9RS . SVT1312A4E . SVT1312B4E . SVT1312C4E . SVT1312C5E . SVT1312L1RS . SVT1312M1ES . SVT1312M1RS . SVT1312V1ES . SVT1312V1RS . SVT1312V9ES . SVT1312X1ES . SVT1312X1RS . SVT1312Z1RS . SVT1312Z9ES . SVT13112FXS . SVT13113FXS . SVT13114GXS . SVT13116FXS . SVT13118FXS . SVT131190X . SVT1311CGX/S . SVT1311EFYS . SVT13122CXS . SVT13124CXS . SVT13125CXS . SVT13126CXS . SVT13126CYS . SVT13127CXS . SVT13128CXS . SVT13128CYS . SVT131290X . SVT1312BPXS . SVT14112CXS . SVT14113CXS . SVT14115CXS . SVT14117CXS . SVT141190X . SVT1411BPXS
Pick up and Delivery, Walk in and Ship in Sony SVT Series Laptop Repair:
At Creative IT UK, we provide you with one of the best London Sony VAIO SVT laptop repair turnaround times, as quick as same day or while-you-wait service in certain cases, although our standard repair turnaround is 24 to 48 hours. You can ship your laptop to us or just drop into our repair store anytime during our business hours.
United Kingdom Mail-In Sony VAIO Laptop Repair or Upgrade
Bath . Birmingham . Bradford . Brighton and Hove . Bristol . Cambridge . Canterbury . Carlisle . Chester . Chichester . City of London . Coventry . Derby . Durham . Ely . Exeter . Gloucester . Hereford . Kingston upon Hull . Lancaster . Leeds . Leicester . Lichfield . Lincoln . Liverpool . Manchester . Newcastle upon Tyne . Norwich . Nottingham . Oxford . Peterborough . Plymouth . Portsmouth . Preston . Ripon . Salford . Salisbury . Sheffield . Southampton . St Albans . Stoke-on-Trent . Sunderland . Truro . Wakefield . Wells . Westminster . Winchester . Wolverhampton . Worcester . York
If you are in need of a London Sony VAIO SVT laptop repair or support service just give Creative IT UK a call today on 020 7237 6805 or send your request to us at info@creativeit.tv.