Creative IT London offers expert component level Sony VAIO SVS laptop repair services to individuals and business all over the United Kingdom. We are a leading IT service provider in London and throughout the United Kingdom and our technicians are well trained to troubleshoot and fix all models of laptop computers of the Sony VAIO SVS series.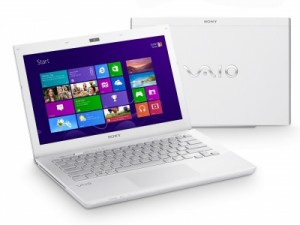 No matter whatever may be the issues your laptop computer experiences such as notebook won't turn on or start up, dead laptop, laptop keeps freezing and not responding, laptop makes noise, laptop displays a solid blue screen, laptop running slow, a program crashes repeatedly, water or liquid spillage damage, broken laptop screen, defective power supply / AC power adapter, motherboard failure, faint images on laptop screen, exhibits distorted video, problems with the Windows operating system, broken or loose DC power jack, blank screen, laptop overheating, laptop won?t connect to internet, laptop randomly shuts down, failure of the graphics processing unit (GPU) or graphics chip, laptop stopped connecting to the wireless network, notebook battery won't charge completely, laptop hard drive problems after being dropped, keyboard / mouse / touchpad issues or other software or hardware problems, we can effectively diagnose any problem and provide your with the right Sony VAIO SVS series laptop repair solution. Our experts carry out component level motherboard repairs and replacement services which include replacing defective chips, solving issues caused by liquid spillages and other general onboard troubleshooting services.
London Sony VAIO SVS Notebook Series Repair
Mentioned below is a list of some of the major London Sony VAIO SVS laptop repair and replacement services we offer:
Motherboard repair and replacement
Hard drive replacement and upgrade
Operating system installation and upgrade
Laptop screen repair and replacement
Optical drive replacement
Keyboard repair or replacement
Antivirus and firewall setup
Hard drive data recovery
DC power jack repair and replacement
Virus, trojan, spyware, and malware removal
Sony VAIO SVS Notebook series Support and Troubleshooting
SVS1311A4E . SVS1311B4E . SVS1311C5E . SVS1311D4E . SVS1311E3EW . SVS1311E3RP . SVS1311E3RW . SVS1311E4E . SVS1311F3ES . SVS1311F3EW . SVS1311G3ES . SVS1311G4E . SVS1311H3EW . SVS1311H4E . SVS1311J3EW . SVS1311K9EB . SVS1311L9ES . SVS1311L9RB . SVS1311L9RS . SVS1311M9ES . SVS1311M9RB . SVS1311N9ES . SVS1311P9EB . SVS1311Q9EB . SVS1311R9EB . SVS1311R9ES . SVS1311S9EB . SVS1311S9RB . SVS1312C5E . SVS1312E3RP . SVS1312E3RR . SVS1312E3RW . SVS1312G3ER . SVS1312G3EW . SVS1312H3ES . SVS1312J3EW . SVS1312K3EW . SVS1312M9RB . SVS1312N9EB . SVS1312P9EB . SVS1312Q9ES . SVS1312R9EB . SVS1312S9EB . SVS1312S9RB . SVS13A1C5E . SVS13A1S9ES . SVS13A1T9ES . SVS13A1U9ES . SVS13A1V8RB . SVS13A1V8RS . SVS13A1V9EB . SVS13A1W9ES . SVS13A1X8RB . SVS13A1X9ES . SVS13A1Y9ES . SVS13A1Z9ES . SVS13A1Z9RB . SVS13A1Z9RN . SVS13A2C5E . SVS13A2V9RS . SVS13A2W9ES . SVS13A2X9ES . SVS13A2X9RS . SVS13A2Z9ES . SVS13A2Z9RS . SVS15112C5E . SVS1511C5E . SVS1511F4R . SVS1511L3ES . SVS1511M3EW . SVS1511N3ES . SVS1511Q9EB . SVS1511R9ES . SVS1511S3RB . SVS1511S9ES . SVS1511T9EB . SVS1511T9ES . SVS1511U9ES . SVS1511V9EB . SVS1511V9ES . SVS1511V9RB . SVS1511W9EB . SVS1511X9EB . SVS1511X9RB . SVS1512S1ES . SVS1512U1RW . SVS1512V1ES . SVS1512V1RB . SVS1512V9ES . SVS1512X1RB . SVS1512X9EB . SVS1512Z1ES . SVS1512Z9EB . SVS1512Z9RB . SVS13112FXB, SVS13112FXP, SVS13112FXS, SVS13112FXW, SVS13115FXB, SVS13115FXS, SVS13118FXB, SVS131190X, SVS1311AGXB, SVS1311BFXW, SVS1311CGXB, SVS1311DGXB, SVS1311ZDZB, SVS13122CXB, SVS13122CXP, SVS13122CXR, SVS13122CXS, SVS13122CXW, SVS13125CXB, SVS13127PXB, SVS13128CXB, SVS131290X, SVS1312ACXP, SVS1312ACXW, SVS13A12FXB, SVS13A12FXS, SVS13A18GXB, SVS13A190S, SVS13A190X, SVS13A1CGXB, SVS13A1DGXB, SVS13A1EGXB, SVS13A25PXB, SVS13A290X, SVS13A2APXB, SVS13A2APXS, SVS15113FXB, SVS15113FXS, SVS15115FXB, SVS15116FXB, SVS15116FXS, SVS15118FXB, SVS151190X, SVS1511AGXB, SVS1511BFXB, SVS1511CFXB, SVS1511DGXB, SVS1511EGXB, SVS1511GFYB, SVS1511HGXB, SVS1511JFXB, SVS15123CXB, SVS15123CXS, SVS15125CXB, SVS15125CXW, SVS15127PXB, SVS151290X, SVS1512ACXS, SVS1512DCXB, SVS1512EPXB, SVS1512GPXB
Pick up and Delivery, Walk in and Ship in Sony SVS Series Laptop Repair:
All Sony VAIO SVS laptop repair services we offer are performed within our store, so that that all works are performed to the highest standards ensuring quality service and timely delivery. In addition, a standard 3 month warranty is offered with all the spare parts and labour we have provided. Almost all our repair services can be completed successfully the same day or with a 24 to 48 hour turnaround time.
United Kingdom Mail-In Sony VAIO Laptop Repair or Upgrade
Bath . Birmingham . Bradford . Brighton and Hove . Bristol . Cambridge . Canterbury . Carlisle . Chester . Chichester . City of London . Coventry . Derby . Durham . Ely . Exeter . Gloucester . Hereford . Kingston upon Hull . Lancaster . Leeds . Leicester . Lichfield . Lincoln . Liverpool . Manchester . Newcastle upon Tyne . Norwich . Nottingham . Oxford . Peterborough . Plymouth . Portsmouth . Preston . Ripon . Salford . Salisbury . Sheffield . Southampton . St Albans . Stoke-on-Trent . Sunderland . Truro . Wakefield . Wells . Westminster . Winchester . Wolverhampton . Worcester . York
For any kind of London Sony VAIO SVS laptop repair and upgrade assistance, please contact us on 020 7237 6805 or forward an email to us at info@creativeit.tv. Our Central London laptop repair store is open from Monday through Saturday, 9:00 am to 6.00 pm.