London Sony PC Repair Company
Welcome to London's best Sony VAIO desktop PC repair company, Creative IT. We are a professional London based desktop PC repair company with years of experience in solving software and hardware problems affecting different Sony machines. Apart from Sony VAIO desktop PC repair, we are proficient in troubleshooting any Sony laptop or notebook complaints. In addition to Sony, we specialize in all computer and laptop repairs of manufactured brands such as IBM, Compaq, Dell, Toshiba, Apple, Asus, Acer, Panasonic, Packard Bell, Siemens, HP, Gateway, Fujitsu, Lenovo, NEC, Alienware and many others.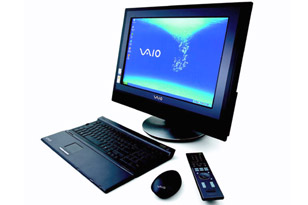 Our experience in Sony VAIO desktop PC repair is extensive and has been built over many years. Creative IT employs well trained and experienced Microsoft Certified Professionals, A+ Certified Hardware Engineers and Network Engineers who are familiar with the numerous problems and challenges of computer repair, computer networking, Internet connectivity, and computer security. Whether you own a small or medium sized business, or if you are just a home user, we can give you professional Sony VAIO desktop PC repair assistance. Our team of staff members is knowledgeable and skillful in solving any issue with regards to Sony VAIO desktop PC series existing in the market today.
We extend our Sony VAIO PC repair services for the entire LS series – VAIO LS All-in-One series (VGC-LS37E, VGC-LS30E and VGC-LS21N), RM series and VAIO TP Series Living Room PC series. If you need your Sony VAIO desktop PC computer repaired then contact us to fix it for you.
Whatever the problem, we have the experience and know how to get your Sony VAIO desktop PC working fast. We will carefully examine your system and then carry out the necessary repairs and return it back to you in no time. And what's more interesting is that we offer very reasonable rates in London for our Sony VAIO computer repair services.
Whether you need a specific part to replace or want to send your PC in for repair, Creative IT is here to help you. If your Sony VAIO hard drive has crashed and all the critical business or personal information stored in it has suffered accidental formatting and deletion, our experts can recover your data in no time. They will also check your system to find if it has suffered any equipment malfunction, software corruption and virus attacks.
If you require our technicians to provide comprehensive diagnosis and repair services, request for our London Sony VAIO desktop PC repair service at 0207 237 6805 or send us an e-mail at info@creativeit.tv.