For affordable and prompt Sony Vaio keyboard repairs, you need the services of Creative IT, a highly proficient laptop and computer repair company in Central London. We can undertake Sony Vaio keyboard repairs for both present and outdated series of Sony Vaio laptop models such as Sony Vaio AR Series, Sony Vaio FZ Series, Sony Vaio N Series, Sony Vaio SZ Series, Sony Vaio BX Series, Sony Vaio A Series, Sony Vaio FJ Series, Sony Vaio FE Series, Sony Vaio C Series, Sony Vaio G Series and Sony Vaio TX Series.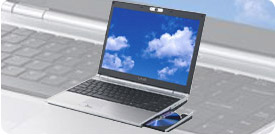 A laptop keyboard is made of several delicate components that are easily damaged. So it's not surprising that the keyboard is one of those parts frequently needing repair. A common keyboard complaint is that the typed alphabet does not show on the laptop screen. Other keyboard faults are damage of keys caused by continued use, and a faulty port (the link between the laptop and the keyboard).
Creative IT also has a keyboard replacement service as part of our Sony Vaio keyboard repair services. In addition to regular Sony Vaio keyboards, we also repair external keyboards with a PS2 or USB port and keyboards with an integrated mouse.
As a valuable client of Creative IT, you can choose from two service options for your Sony Vaio keyboard repair: onsite repair or offsite repair. For onsite repair, you only have to call us and we'll be at your location within 2 hours. If the damage to the keyboard demands extensive repair, our highly qualified service engineers carry the laptop back to our well-equipped service center in Central London, UK. All offsite Sony Vaio keyboard repairs are carried out at our service center. We have an amazing turnaround time that never exceeds 48 hours.
If you thought that Creative IT's Sony Vaio keyboard repair services end with just repairing the faulty component, you're mistaken. Our technicians thoroughly clean the inside of your Sony Vaio keyboard and wash all plastic parts, rubber parts, and keycaps. We check all the keys before delivering the keyboard to you in tiptop condition.
For speedy and effective Sony Vaio keyboard repairs, contact Creative IT by dialing 020 7237 6805 or e-mail us at info@creativeit.tv.
Major laptop and notebook brands we repair and upgrade –
IBM,
Sony,
Compaq,
Dell,
Toshiba,
Apple,
Asus,
Acer,
Panasonic,
Packard Bell,
HP,
Gateway,
Fujitsu,
Lenovo,
Alienware
and
Advent.