If your Siemens notebook defective? With a complete range of computer repair and maintenance services, Creative IT offers comprehensive Siemens Notebook Repair solutions in London, UK. We'll repair your defective Siemens notebook fast, competently and with friendly service. As one of the leading IT service provider, we are specialized in Siemens Notebook Repair Services and offer trustworthy Siemens notebook repair solutions at affordable rates. A number of small, medium and large businesses, home users and other professionals have already benefited from our notebook repair services in London.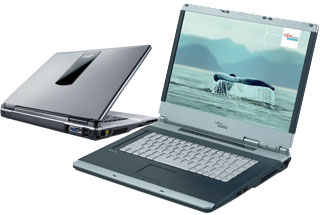 At Creative IT, the entire Siemens Notebook Repairs are performed by our factory certified technicians. Prior to undertaking your Siemens Notebook Repair, they thoroughly check the cause of malfunctioning of your Siemens notebook. We carefully repair your system and make necessary upgrades and replacements. We offer flexible repair service for all type of Siemens notebook series including Amilo Pro V series, Amilo Pro V Edition, LifeBook series and Celsius H series.
With a range of Siemens compatible parts, Creative IT offers speedy repair and replacement service for customers in London. We repair all Siemens notebook related problems including motherboard repair, LCD screen repair and replacement, CD and floppy drives repair, inverter repair, keyboard repair and more component level repairs. We also provide notebook internet connection setup, spyware and virus removal, data transfer and data recovery, memory and hardware upgrades and more support services as part of our Siemens Notebook Repair in London, UK.
Creative IT offers cost-effective Siemens Notebook Repair Services with quick turnaround period. We can provide both onsite and offsite repair service as per your requirements. Fast and efficient same day Onsite Siemens Notebook Repair is our specialty. We also offer flexible and economic Siemens notebook maintenance contracts affordable to every type of customers. If you wish to know more about our Siemens Notebook Repair, please do contact us on our phone number: 0207 237 6805 or send an e-mail to as at info@creativeit.tv.