London PowerBook G4 Repair Company
We are Creative IT based in London; the leading providers of IT enabled services throughout UK. We provide PowerBook G4 repair in London, UK. We are the top service providers for various PowerBook G4 models to customers in and around London at reasonable prices. The different PowerBook G4 models which we undertake for repair include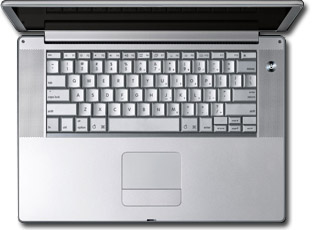 12-inch PowerBook G4
PowerBook G4 (12-inch DVI)
PowerBook G4 (12-inch 1.33GHz)
PowerBook G4 (12-inch 1.5GHz)
15-inch PowerBook G4
PowerBook G4 (15-inch 1.65/1.5GHz)
PowerBook G4 (15-inch FW 800)
PowerBook G4 (15-inch 1.5/1.33GHz)
PowerBook G4 (DVI)
PowerBook G4 (1 GHz/867 MHz)
17-inch PowerBook G4
PowerBook G4 (17-inch 1.33GHz)
PowerBook G4 (17-inch 1.5GHz)
PowerBook G4 (17-inch 1.67GHz)
Although we are not an Apple authorized notebook repair company, we can guarantee complete effective solution for PowerBook G4 repairs.
We provide our PowerBook G4 repair service with a team of highly skilled technicians. They have in-depth knowledge in Apple Mac Repairs and Apple PowerBook repair service including all PowerBook G4 models. Creative IT makes use of the latest techniques and the most modern equipments for our London PowerBook G4 repair purposes. Before we repair any PowerBook G4 notebook, we make a thorough analysis on the complaint and make an assessment. Based on the review made we will repair your PowerBook G4 notebook. Thus we can guarantee error free Aluminum PowerBook G4 repair and Titanium PowerBook G4 repairs in London, UK.
Serving professionals at all levels, from individual customers to Fortune 100 companies. has built a solid name on its proficiency in PowerBook G4 repair service. Some of the repair services provided by us as part of our Apple PowerBook G4 repair include PowerBook G4 data recovery, network setup, network backups and data protection, wireless airport installations, spyware and adware removal, operating system installations and upgrades, e-mail troubleshooting, OS X transition/migration, PowerBook G4 screen repair, PowerBook G4 hard drive upgrade, PowerBook G4 RAM upgrades, data transfer and troubleshooting of peripheral such as scanners and printers. The best part include of our service is that we replace your faulty Apple PowerBook G4 parts with genuine Apple parts.
We provide both onsite and offsite Apple PowerBook G4 repair service to customers in and around London, UK. To get access to our onsite G4 Powerbook repairs, all you have to do is to give us a call. Our expert technicians will reach you within the shortest possible time. Fore more details regarding our London Apple PowerBook G4 service please go through our website. Feel free to call us at our customer service number 0207 237 6805. You can also contact us through email at info@creativeit.tv.