Are you experiencing frequent kernel panics or wireless connection issues with your PowerBook G4 portable computer? Then we at Creative IT UK are the Apple PowerBook G4 17 inch logic board repair specialists for you. We provide personalised, one-to-one Apple laptop repair services for home users and businesses across the United Kingdom.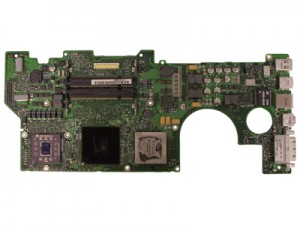 At Creative IT UK, we are professionals when it comes to component level Apple PowerBook G4 17 inch logic board repair jobs. Our experienced Apple laptop logic board repair technicians utilise the latest skills combined with advanced diagnostic tools and software utilities to ensure an accurate and quick problem diagnosis and repair solution. We have the expertise to resolve notebook issues such as slow performance, bad RAM (memory) slots, PowerBook G4 portable computer won't turn on or start up, laptop will not boot up at all, defective USB ports, audio / video problems, failure of graphics processor or graphics card, Mac notebook suddenly shuts down, laptop starts up to a blank screen, PowerBook G4 notebook overheating, horizontal or vertical lines that appear on the screen, fan issues, PowerBook G4 freezing during boot and other component failure issues on the logic board quickly and effectively. We also have the best quality parts in stock to provide you with affordable Apple PowerBook G4 17 inch logic board replacement solutions.
PowerBook G4 17″ Component Level Motherboard Repair
17 inch 1 GHz PowerPC G4 (M8793LL/A)
17 inch 1.33 GHz PowerPC G4 (M9110LL/A)
17 inch 1.5 GHz PowerPC G4 (M9462LL/A)
17 inch 1.67 GHz PowerPC G4 (M9689LL/A)
17 inch 1.67 GHz PowerPC G4 (M9970LL/A)
Mail-In and Drop Off PowerBook G4 17″ Logic Board Repair and Replacement [show]
Bath . Birmingham . Bradford . Brighton and Hove . Bristol . Cambridge . Canterbury . Carlisle . Chester . Chichester . City of London . Coventry . Derby . Durham . Ely . Exeter . Gloucester . Hereford . Kingston upon Hull . Lancaster . Leeds . Leicester . Lichfield . Lincoln . Liverpool . Manchester . Newcastle upon Tyne . Norwich . Nottingham . Oxford . Peterborough . Plymouth . Portsmouth . Preston . Ripon . Salford . Salisbury . Sheffield . Southampton . St Albans . Stoke-on-Trent . Sunderland . Truro . Wakefield . Wells . Westminster . Winchester . Wolverhampton . Worcester . York
To know more about our nationwide Apple PowerBook G4 17 inch logic board repair, troubleshooting, maintenance and logic board replacement services, please give Creative IT UK a call on 020 7237 6805 or send your queries to us at info@creativeit.tv or through our quick contact form. Creative IT UK can also arrange pick-up and delivery services or clients can stop by one of our drop-off locations in London.
Creative IT UK has 17 inch PowerBook G4 logic boards in stock for Apple part numbers: 661-3765, 661-3403, 661-3274, 661-3273, 661-2937 and 661-2823.