London Power Mac G5 Repair Expert
If your Apple Power Mac G5 not booting up or is it facing power-related problems due to specific component failure within the power supply? Then why not come to us? At Creative IT, one of the providers of IT solutions to clients in and around London, we can fix all the issues of all types of Power Mac G5 models. Since our founding, we have been providing a complete range of Apple Mac maintenance and repair services.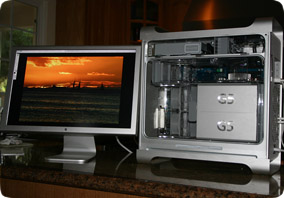 In warranty, or not, we can fix most Power Mac G5 machines in 24-48 hours. We know you want and need your Mac back at the earliest. We will do our best to fix it up, and return it quickly. Quality new, used, and refurbished Power Mac G5 parts and accessories are available with us. We also stock a wide selection of hard-to-find Apple service parts at prices considerably lower than those of our competitors in London, UK. Only very few companies can offer the amount or the quality of Apple Power Mac G5 repair services that we offer.
We have expert technicians, who are willing to get your Power Mac G5 upgraded or repaired as quickly as possible. Some of our services include Power Mac G5 logic board repair, Power Mac G5 processor repair, Power Mac G5 power supply repair, Power Mac G5 hard drive upgrade, Power Mac G5 memory upgrade, Power Mac G5 data recovery, Power Mac G5 battery replacement, Power Mac G5 LCD screen replacement and Power Mac G5 virus removal.
Our technicians will assess the Power Mac G5 desktop and order any appropriate replacement part if required. Most repairs are completed at the time period informed to the customer, but can sometimes be finished sooner if we have the necessary parts in stock.
We offer onsite Power Mac G5 repair services which are done at homes, offices or any other location the clients prefer. Please contact us if you need further details about our quality London Power Mac G5 repair services. Call our customer service number 0207 237 6805 or you can browse our online site at www.creativeit.tv.
You can also mail us at info@creativeit.tv. We appreciate your business, and we look forward to getting your Apple Power Mac G5 back on its feet as soon as possible.