PCSpecialist Laptop Repair Experts in London
Creative IT is a renowned PCSpecialist laptop repair and upgrade solution provider in Central London. With years of industry experience, we provide quick turnaround diagnostic and repair solutions for all PC Specialist high-performance laptop, gaming laptop and custom laptop models. PCSpecialist offers a wide range of high performance gaming laptops designed to fit your gaming needs.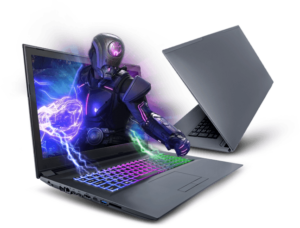 Our qualified and skilled PCSpecialist laptop repair engineers will first diagnose the issue with your laptop computer and suggest suitable repairs at an affordable price. You don't have to wait for weeks to get your PC Specialist gaming or custom laptop fixed. If you're near one of our laptop repair stores in London, drop in and our experienced engineers will diagnose and fix most common issues with your PC Specialist gaming laptop while you wait.
Quick turnaround repair for all laptop models including:
Thin & Light Laptops
NVIDIA GeForce Based Laptops
15.6″ Gaming Laptops
17.3″ Gaming Laptops
Professional Laptops
Desktop Replacement Laptops
Gaming Laptops
Our competent laptop technicians and engineers are trained to fix all types of hardware, operating system and software issues such as broken or cracked laptop screen, gaming laptop doesn't turn on at all, defective NVIDIA GeForce graphics card, screen is black, broken DC power jack, laptop running slowly, gaming laptop overheating, laptop battery not charging, laptop shutdowns suddenly without any warning, computer beeps and fails to boot, Windows operating system is corrupted, clicking or noisy hard drive, laptop won't connect to WiFi, laptop keys not working properly, laptop is infected with viruses, adware, malware or spyware, blue screen of death (BSoD) errors in Windows, broken hinges of laptop screen and liquid spilled on your PC Specialist laptop.
PCSpecialist laptop repair and upgrade services we offer include:
Virus / Adware / Spyware removal
PC Specialist laptop keyboard repair / replacement
PC Specialist laptop screen repair / replacement
Installation and upgrade of operating system
Software troubleshooting and upgrade
Hard drive data recovery from crashed drives
Data back up and migration
Laptop SATA HDD / SSD upgrade / replacement
Laptop motherboard repair / replacement
RAM (memory) upgrade and replacement
Laptop Touchpad replacement
Laptop hinge repair and replacement
Laptop DC power jack repair / replacement
PCSpecialist laptop liquid damage repair
Contact us today for your PCSpecialist laptop repair requirements. You can call us on 020 7237 6805 or send your request to us at info@creativeit.tv.
Experts in PCSpecialist Gaming and Editing Laptop Repair
14″ Thin and Light Laptops:
14.1″ GEMINI III
14″ ULTRANOTE V
14″ ULTRANOTE IV
14″ LAFITÉ IV
14″ FUSION IV
14″ LAFITÉ PRO
14″ FUSION III
14″ ULTRANOTE V S
14″ LAFITÉ IV X
14″ FUSION IV X
15.6″ Gaming / Editing Laptops:
15.6″ ULTRANOTE VI S
15.6″ ULTRANOTE VI
15.6″ LAFITÉ IV
15.6″ FUSION IV
15.6″ Cosmos IX
15.6″ Recoil III GTX
15.6″ Optimus XI
15.6″ Nova
15.6″ Optimus X
15.6″ Proteus VI RTX
15.6″ Vyper II
15.6″ Optimus Pro
15.6″ Defiance VII
15.6″ Octane VI
15.6″ Vyper III
15.6″ Recoil IV
15.6″ OCTANE VI ELITE
15.6″ OCTANE VI PRO
15.6″ OCTANE VI ULTRA
15.6″ RECOIL III LX
15.6″ RECOIL III ELITE
15.6″ OPTIMUS X ELITE
15.6″ RECOIL II RS
15.6″ OPTIMUS X PRO
15.6″ RECOIL II EXTREME
15.6″ OPTIMUS X ULTRA
15.6″ ULTRANOTE VI PRO
15.6″ LAFITE IV ELITE
15.6″ RECOIL II PRO
COSMOS ELITE 15
COSMOS PRO 15
OPTIMUS ELITE 15
NOVA ELITE 15
COSMOS ULTRA 15
OPTIMUS EXIGE 15
OPTIMUS PRO ELITE 15
OPTIMUS PRO EXIGE 15
NOVA PRO 15
DEFIANCE ELITE 15
VYPER ELITE 15
RECOIL ELITE 15
OPTIMUS ULTRA 15
DEFIANCE PRO 15
OPTIMUS PRO ULTRA 15
VYPER PRO 15
RECOIL PRO 15
DEFIANCE ULTRA 15
VYPER ULTRA 15
NOVA ULTRA 15
RECOIL ULTRA 15
15.6″ LAFITÉ IV S
17.3″ Gaming / Editing Laptops:
17.3″ ULTRANOTE
17.3″ Cosmos VIII
17.3″ Optimus XI
17.3″ Optimus Pro XI
17.3″ Octane VI
17.3″ Defiance VII
17.3″ Vyper
OPTIMUS ELITE 17
OPTIMUS EXIGE 17
OPTIMUS PRO ELITE 17
OPTIMUS ULTRA 17
OPTIMUS PRO EXIGE 17
DEFIANCE ELITE 17
VYPER ELITE 17
OPTIMUS PRO ULTRA 17
VYPER PRO 17
VYPER ULTRA 17
DEFIANCE ULTRA 17
DEFIANCE PRO 17
17.3″ OCTANE VI ULTRA
17.3″ OCTANE VI ELITE
17.3″ OCTANE VI PRO
17.3″ ULTRANOTE S
Professional / Workstation Laptops:
14″ FUSION IV
14″ LAFITÉ PRO
15.6″ FUSION IV