If you need professional and prompt PC computer repair and service, you have come to the right place. We at Creative IT are the leading providers of IT services across the UK. Some computer repair centers can take up to several weeks to repair your computer equipment and return it to you. With a phone call, you can access our London onsite PC computer repair service. Our onsite repairing team will reach you within hours. You can enjoy an inexpensive PC computer repairing as quickly as possible.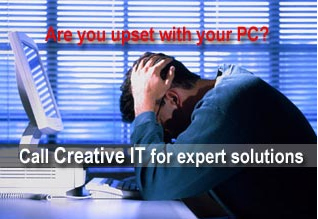 At a reasonable price, we provide the perfect PC computer repair solution. Business or residential, Creative IT is here to provide the customer with an affordable and practical PC computer repair solution. We have many years of experience in the field of PC computer repair services and our A+ certified technicians are experts in the diagnosis of any computer problems, and in the repair and maintenance of PC hardware. They have years of PC and computer maintenance experience. They make use of sophisticated repairing methods and cutting edge tools for all PC computer repairs.
We are specialist repair and service providers of branded computers such as Sony, Apple, Toshiba, Compaq, IBM, Dell, Panasonic, Acer and Sharp. We repair and maintain anything to do with a personal computer or network. Be it anything from fixing a keyboard to overall IT support, replacing anything from a Zener diode to an entire CPU assembly, computer maintenance, repairs, servicing and upgrades.
We deal with the entire PC computer repairing needs such as computer installation, hardware repairs, software upgrades, setting up small networks, Internet sharing, PC data recovery, virus removal, and much more.
If we can't repair your PC onsite, we will take your computer to our well equipped workshop in Central London for detailed diagnosis and repairs and deliver it back to you in perfect working condition within the next 24-48 hours.
If you have any doubts regarding our London PC computer repair service, feel free to call us at 020 7237 6805. Our friendly customer care executives will answer your queries. For more information regarding our PC computer repair service in London, UK, please email us at info@creativeit.tv.