Creative IT – one of the leading IT maintenance and repair service centers in London – provides top-notch quality Packard Bell desktop PC repair, technical support and service to all potential customers located in and around London and UK. We are one of the leading IT companies in London who specializes in same day Packard Bell PC computer repair, configuration and diagnostics. Our engineers and skilled servicemen have a vast amount of experience in dealing with all IT issues and will happy to assist you with all your Packard Bell desktop PC repair issues in London and surrounding areas. We also provide a comprehensive desktop PC and laptop computer repair service virtually for every manufacturer in the industry such as IBM, Sony, Compaq, Dell, Toshiba, Apple, Asus, Panasonic, Siemens, HP, Gateway, Fujitsu, Lenovo, NEC and Alienware.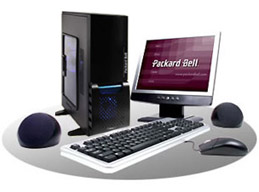 Set the performance of your Packard Bell desktop PC at top gear with services from Creative IT that is provided at minimum cost. Whatever may be the issues in your system, we will fix the problems in all models of Packard Bell desktop PCs. Here are some of the Packard bell desktop PC models we repair. If you do not see your model listed, please don't hesitate to contact us.
At Creative IT, we have a knowledgeable team of technicians to locate and eliminate viruses and spyware applications; extract data from storages or files and much more to suit the most demanding requirements of our customers. Moreover, as per your demand we install and upgrade the necessary software and hardware on your Packard Bell desktop PC.
If your system is experiencing any problem, contact us for our onsite and offsite Packard Bell PC computer services. Our technicians inspect each and every component to identify the faults. Overall system components are thoroughly cleaned and the problems are fixed.
During the repair stage, if it becomes necessary to replace parts/components, Creative IT has the capability to replace the parts with new, used or refurbished parts as per your recommendations. Request for our London Packard Bell desktop PC repair service at 0207 237 6805 or send us an e-mail at info@creativeit.tv.