Packard Bell ixtreme Repair Company London
At Creative IT we can provide assistance for all your Packard Bell ixtreme repair and maintenance needs. Being a one stop destination for all kinds of computer repair and IT support services, we can be your best partner for resolving your Packard Bell ixtreme repair issues. We will fix the problems in all models of Packard Bell desktop PCs including the Packard Bell imedia, Packard Bell istart, Packard Bell ipower and Packard Bell ixtreme computers.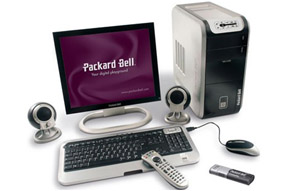 We have expert and qualified specialists to repair defective Packard Bell ixtreme motherboard, power unit, hard drive, monitor, CD-ROM drive and other related components of your ixtreme machine. Our technicians will try their level best to rectify and repair the PC. If a component repair alone will not fix the fault properly, they will go in for replacing the defective components with new ones.
Here are some of the Packard bell ixtreme desktop PC models Creative IT undertake for repairs. If you do not notice your model listed, please don't hesitate to contact us.
We provide our customers the convenience of a variety of Packard Bell ixtreme repair options. We can provide same day on-site ixtreme repair services as well as remote support services. In case our technicians are unable to resolve the problem on the spot, they will bring the defective ixtreme desktop PC to our fully equipped in-house workstation in Central London to be thoroughly analyzed and repaired. At Creative IT, we provide customized solutions for every Packard Bell ixtreme repair and maintenance contracts. We always strive to provide the best possible care to our customers in a very flexible and cost-effective manner. To get more details about our London Packard Bell ixtreme computer repair services, please call us at 020 7237 6805 or just mail us at info@creativeit.tv.