Packard Bell istart Repair Expert UK
We invite you to the world of Creative IT! This is the right place for you to halt if you are in search of a smart and quick Packard Bell istart repair companion. We believe it is our duty to protect your istart desktop PC and we have teamed up a skilled professional workforce to give you quality and satisfactory Packard Bell desktop repair service in London, UK. We extend our PC computer repair service to all Packard Bell desktop PCs including the Packard Bell imedia, Packard Bell istart, Packard Bell ipower and Packard Bell ixtreme and also to Packard Bell laptops.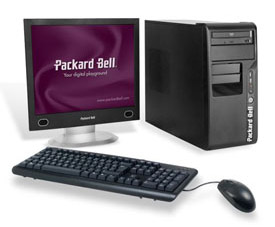 Here are some of the Packard bell ipower desktop PC models we repair. If you do not see your model listed, please don't hesitate to contact us.
Packard Bell istart 1379, Packard Bell istart 1359, Packard Bell istart 1360, Packard Bell istart 1369, Packard Bell istart 1370, Packard Bell istart 1269, Packard Bell istart 2369, Packard Bell istart 2380 and Packard Bell istart 2479
If you have any complaint with your Packard Bell istart PC operating system, processor, motherboard, socket, hard disk drive, floppy drive, CD-RW/DVD-RW, optical drive, microphone, headphones, keyboard or pointing device, please pick up your phone and dial us or request our Packard Bell istart repair service online. Here at Creative IT we offer both on-site and off-site Packard Bell istart repair services. Our experts will be there right at your doorstep, at your home or office. They will carefully analyze and diagnose the problem and strive to fix them most possibly the same day itself on site. But for serious complications, we will ship your faulty Packard Bell istart PC computer to our well equipped service center in Central London.
For offsite Packard Bell istart repair service, we guarantee to return back your Packard Bell istart desktop in first class running condition within 24-48 hours turn around duration. We also specialize in Packard Bell istart data recovery services which are warranty-safe' and with our specialized laptop data recovery techniques we offer you fast, secure, and confidential data recovery services you need. Packard Bell maintenance contracts and expert assistance is also offered in processing an insurance claim with regards to all models of Packard Bell desktop PCs and notebooks.
Creative IT mainly aims to attain customer satisfaction and maintain long-term relationships with the clients. To be familiar with further details about any of our services or regarding our London Packard Bell istart repair, check out our website www.creativeit.tv. If you need instant response call us at 020 7237 6805 or just mail us at info@creativeit.tv.