London Packard Bell iPower Repair Company
Are you annoyed at the malfunctioning of your Packard Bell ipower? Find reliable and cost effective solutions for such problems at Creative IT. We are a professional service centre in Central London for Packard Bell ipower Desktop repair. Being a specialized repair and consultancy service company, we undertake repairs of all Packard Bell desktop PCs and Packard Bell laptop repairs. Whatever may be the issues in your system, we will fix the problems in all models of Packard Bell desktop PCs including the Packard Bell imedia, Packard Bell istart, Packard Bell ipower and Packard Bell ixtreme.
Here are some of the Packard bell ipower desktop PC models we repair. If you do not see your model listed, please don't hesitate to contact us.
Packard Bell ipower 5000, Packard Bell ipower 6810, Packard Bell ipower 6610, Packard Bell ipower 7600, Packard Bell ipower 7650, Packard Bell ipower FX 7610 and Packard Bell ipower FX 7660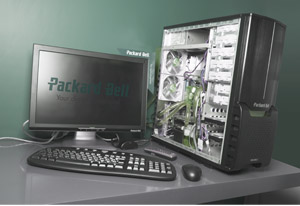 At Creative IT, we offer reliable repair and replacement service with genuine Packard Bell ipower parts. We can repair, replace and upgrade parts such as floppy drive, hard disk, memory, motherboard, keyboards, LCD, TFT, backlight, adapters, fan, hinges and CPU of your Packard Bell ipower PC. We can help to resolve spyware and virus problems, general hardware and software issues affecting your Packard Bell ipower PC. We also offer data extraction, password removal, data recovery and software reloads as part of our London Packard Bell ipower PC repair.
In order to provide our customers with the best possible Packard Bell ipower repair services in the industry, we combine the most modern technologies with dedicated services of A+ technicians, who have profound knowledge and expertise their field. We offer on-site Packard Bell ipower computer support services to the residents in London. If on-site service is impossible, we can resolve repair problems either utilizing our in house capabilities or providing remote access support services.
If you find any type of interruption when working on your Packard Bell ipower PC, then bring it to our attention immediately and we will do our best to get it repaired and serviced in the shortest possible time. We have our technical support staff to respond to all kinds of queries you may have with regards to our London Packard Bell ipower repair services. If you are interested in knowing more about our Packard Bell ipower repair and other repair services, please browse our site www.creativeit.tv or contact us at 020 7237 6805 or e-mail us at info@creativeit.tv.