Creative IT, a professionally managed computer and IT centre in London, specializes in Laptop and Notebook Repair Services and upgrades. We have to our credit many years of experience in providing professional London Notebook Repair Services for the major world class notebook and laptop brands. We provide specific repairing and maintenance services for notebooks and laptops of IBM, Sony, Compaq, Dell, Toshiba, Apple, Packard Bell, HP, Acer, Fujitsu and Sharp. We're one of the few local-area support companies that offer Notebook Repair Services and support to customers in and around London.
Creative IT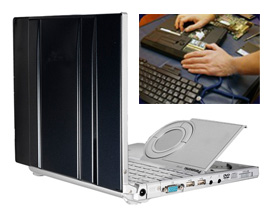 has a team of computer service engineers who are extremely skilled in diagnosing and solving even the most complicated problems. In the process of our Notebook Repair Services, we will respond promptly and we'll have your notebook back in working order either the same day or the next day in most cases, because we know how important is for you to have your laptop running.
Our London Notebook Repair Services include DC power jack repairs, LCD screen repairs, and other component level repairs, as well as installation, upgrades, replacements and software reloading. Our maintenance services for CD-ROM, CD-RW, DVD and keyboard are very reasonable. Our effort always has been to offer maximum quality repair service at the minimum price. If the problem with your notebook is a minor one, we rectify it on site. Otherwise we take the notebook to our store, repair it and return it within 24 to 48 hours.
Notebook Repair Services
At Creative IT, our technicians can help you with any hardware and software problems you may. Being a qualified specialist, we are capable of undertaking your London Notebook Repair Services in a professional, competent and efficient manner. Our charges are most reasonable and we guarantee 100% customer satisfaction. If you wish to know more about our Notebook Repair Services, please do contact us on our phone number: 0207 237 6805 or send an e-mail to as at info@creativeit.tv.