At Creative IT London, Microsoft Surface RT repair is something that we specialise in. When you require Microsoft Surface hybrid tablet repair or replacement services you can count on our professionally trained team of technicians.
London Microsoft Surface RT Repair and Replacement Experts
We offer a wide range of fast and affordable repair and replacement services for Microsoft Surface 1st generation tablets. If you're having an issue with your Surface tablet, whether it is Microsoft Surface RT won't turn on, the tablet doesn't respond at all when you press the power button, Surface RT battery won't charge, Windows won't start, doesn't wake from sleep, broken or cracked screen, lines on the display, a black, blue, or dark-colored screen, Microsoft Surface RT shuts down or freezes in the middle of installing updates, liquid damaged Microsoft Surface, Windows freezes and stops responding, faulty charging port, malfunctioning backlight, microphone issues, faulty hinges, or any other hardware or software issue; we're experts in quick turnaround Microsoft Surface RT repair services.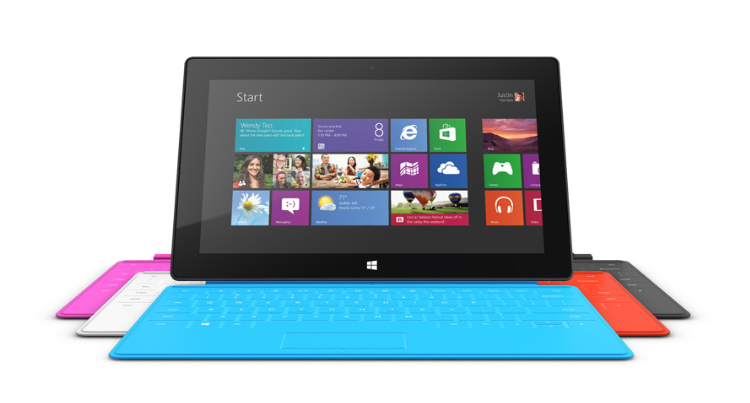 Microsoft Surface RT Screen Assembly Replacement
Surface RT Touch Screen Digitizer Replacement
Microsoft Surface RT LCD Screen Repair
Microsoft Surface RT Lens Repair / Replacement
Microsoft Surface RT Buttons Repair / Replacement
Surface RT Loud Speaker Repair / Replacement
Surface RT Headphone Socket Repair / Replacement
Surface RT Back Camera Repair / Replacement
Surface RT Front Camera Repair / Replacement
Microsoft Surface RT Software Repair
Microsoft Water / Liquid Damage Repair
Microsoft Surface RT Battery Replacement
Microsoft Surface RT Charging Port Repair
Microsoft Surface Rear Housing Replacement
Surface Headphone Jack Repair / Replacement
Microsoft Surface RT Memory Card Reader Repair
Microsoft Surface Kickstand Replacement
Creative IT London specialises in same day Microsoft Surface RT screen repair and replacement services. Our experienced technicians can replace the whole front screen of your Surface tablet which includes the front glass, the LCD display and the touch screen digitizer.
Why Creative IT Microsoft Surface RT Repairs?
We diagnose and fix most Microsoft Surface RT faults the same day
Easy online booking
Quality replacement parts used
All repairs come with warranty

If you have any further London Microsoft Surface repair questions, please feel free to call us on 020 7237 6805 or e-mail us for a no obligation Microsoft Surface RT repair quote.