Creative IT UK has the expertise and resources to provide complete Apple MacBook Pro repair services to home users and businesses in London and nationwide. We are equipped to service and repair all models of 13.3″, 15.4″ and 17″ MacBook Pro laptop and notebook computers. We can troubleshoot and repair any software and hardware that is not working properly, and can provide quality replacement services compatible to your specific Apple Unibody MacBook Pro or Aluminum MacBook Pro laptop model.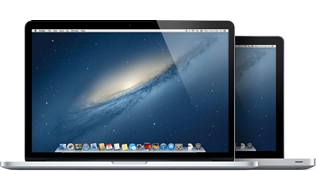 At Creative IT UK, our in-house Apple MacBook Pro repair store in Central London is equipped with the latest diagnostic and repair tools so that you can potentially have your portable computer functioning as good as new within the same day or while you wait. With many years of combined technical experience, our Mac laptop repair and service technicians are familiar with all kinds of issues with your MacBook Pro laptop. Some of the common MacBook Pro laptop issues we deal with include cracked or damaged screen / glass, distorted video or scrambled video, MacBook Pro won't power on / won't turn on, repeated kernel panics, Trackpad becomes unresponsive, intermittent black screen / no video issues, laptop freezes at unexpected times, issues with video on internal or external displays, MacBook Pro sleep problems, notebook's display has no picture, NVIDIA GeForce 8600M GT graphics processor failure, MacBook Pro logic board failure, laptop stop responding during startup, built-in iSight camera not working, SuperDrive not working properly, MacBook Pro notebook overheating, broken laptop casing, noisy fan problems, bad RAM slots, Wireless network connection issues and other component level issues caused due to liquid spillage.
London Apple MacBook Pro Repair
Our full service London Apple MacBook Pro repair solutions include:
Screen with glass bezel / display housing replacement
DC-in board repair and replacement
Top casing / bottom casing replacement
SuperDrive replacement
MacBook Pro hard drive data recovery
MacBook Pro comprehensive diagnostic service
As a leading Apple MacBook Pro laptop repair store in Central London, we carry a complete line of Unibody and Aluminum MacBook Pro parts in stock and all parts and services we provide are covered by standard warranty period. You can drop in to our repair store anytime during our office hours or ship your damaged Mac laptop by means of a safe courier service.
To get a free London MacBook Pro repair quote or to schedule a service, please call us on 020 7237 6805. You can also forward your quote request to us at info@creativeit.tv. Our office hours are from 9 AM to 6 PM, Monday to Saturday.