Creative IT UK, based in Central London, offers reliable Apple laptop repair and maintenance services for all kinds of home and business Apple MacBook Pro 17 inch logic board repair requirements. From fixing component level damages to complete Apple MacBook Pro 17 inch logic board replacement solutions, we deliver a wide range of Apple laptop logic board repair, troubleshooting and replacement services to customers across London and the United Kingdom.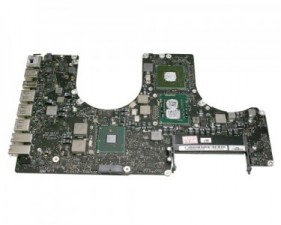 With specialised diagnostic and repair facilities and equipment in-house, Creative IT UK can provide you with full-service Apple MacBook Pro 17 inch logic board repair solutions with quick turnaround time. By performing advanced repair process including BGA (ball grid array) reballing and reflow techniques, we can efficiently fix most Mac laptop logic board issues such as slow system performance, MacBook Pro 17 inch laptop will not power on, boot up or start up issues, kernel panics and black screens, laptop overheating problems, failure of the NVIDIA GeForce graphics processor, power issues with notebook, USB ports not working, MacBook Pro notebook liquid damage, laptop hangs or freezes after startup, laptop not charging the battery, laptop doesn't recognize SuperDrive, MacBook Pro unexpectedly shuts down and distorted or scrambled video problems.
MacBook Pro 17″ Component Level Motherboard Repair
17 inch 2.4 GHz (MD311LL/A)
17 inch 2.8 GHz (MC226LL/A)
17 inch 2.66 GHz (MB604LL/A)
17 inch 2.53 GHz (MC024LL/A)
17 inch 2.5 GHz (MB766LL/A)
17 inch 2.5 GHz (MB166LL/A)
17 inch 2.4 GHz (MA897LL/A)
17 inch 2.33 GHz (MA611LL/A)
17 inch 2.2 GHz (MC725LL/A)
17 inch 2.16 GHz (MA092LL/A)
Mail-In and Drop Off MacBook Pro 17″ Logic Board Repair and Replacement [show]
Bath . Birmingham . Bradford . Brighton and Hove . Bristol . Cambridge . Canterbury . Carlisle . Chester . Chichester . City of London . Coventry . Derby . Durham . Ely . Exeter . Gloucester . Hereford . Kingston upon Hull . Lancaster . Leeds . Leicester . Lichfield . Lincoln . Liverpool . Manchester . Newcastle upon Tyne . Norwich . Nottingham . Oxford . Peterborough . Plymouth . Portsmouth . Preston . Ripon . Salford . Salisbury . Sheffield . Southampton . St Albans . Stoke-on-Trent . Sunderland . Truro . Wakefield . Wells . Westminster . Winchester . Wolverhampton . Worcester . York
In addition to Apple Mac laptop logic board troubleshooting and repair services, we provide quality hardware replacement solutions for all types of faulty or defective logic board components and parts. We also specialise in BGA (ball grid array) reballing and BGA rework solutions and video card or graphics card / GPU troubleshooting and replacement services.
For any kind of information regarding our Apple MacBook Pro 17 inch logic board repair services in London, please call Creative IT UK on 020 7237 6805 or email your queries to us at info@creativeit.tv.
Creative IT UK has 17 inch MacBook Pro logic boards in stock for Apple part numbers: 661-5973, 661-5965, 661-5526, 661-5472, 661-5204, 661-5203, 661-5039, 661-5038, 661-4964, 661-4963, 661-4690, 661-4625, 661-4597, 661-4364, 661-4235 and 661-3977.