Creative IT UK is a Central London based Apple laptop repair company providing specialised Apple MacBook Pro 13 inch logic board repair, troubleshooting and replacement services to meet your technical needs. We provide completely flexible Apple laptop logic board repair and replacement services to individual customers and businesses throughout London and the United Kingdom.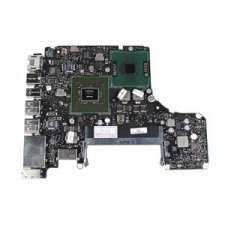 At Creative IT UK, we believe in providing Apple MacBook Pro 13 inch logic board repair solutions of high quality by professional and experienced electronics engineers and technicians. Our technicians are extensively skilled in identifying and accordingly fixing Apple MacBook Pro logic board problems including repeated kernel panics, MacBook Pro notebook computer won't start up or turn on, faulty USB ports, notebook constantly freezes or hangs, devices not being recognised, issues with video, MacBook Pro overheating, distorted or scrambled video, no display / no video, liquid damage, graphics processor failure, no startup chime, slow system performance and wireless connection issues.
MacBook Pro 13″ Component Level Motherboard Repair
13.3 inch 2.8 GHz (MD314LL/A)
13.3 inch 2.7 GHz (MC724LL/A)
13.3 inch 2.66 GHz (MC375LL/A)
13.3 inch 2.53 GHz (MB991LL/A)
13.3 inch 2.4 GHz (MD313LL/A)
13.3 inch 2.4 GHz (MC374LL/A)
13.3 inch 2.3 GHz (MC700LL/A)
13.3 inch 2.26 GHz (MB990LL/A)
Mail-In and Drop Off MacBook Pro 13″ Logic Board Repair and Replacement [show]
Bath . Birmingham . Bradford . Brighton and Hove . Bristol . Cambridge . Canterbury . Carlisle . Chester . Chichester . City of London . Coventry . Derby . Durham . Ely . Exeter . Gloucester . Hereford . Kingston upon Hull . Lancaster . Leeds . Leicester . Lichfield . Lincoln . Liverpool . Manchester . Newcastle upon Tyne . Norwich . Nottingham . Oxford . Peterborough . Plymouth . Portsmouth . Preston . Ripon . Salford . Salisbury . Sheffield . Southampton . St Albans . Stoke-on-Trent . Sunderland . Truro . Wakefield . Wells . Westminster . Winchester . Wolverhampton . Worcester . York
We provide affordable Apple MacBook Pro 13 inch logic board replacement services for severely damaged logic boards including liquid damaged laptops. You can bring your Mac laptop directly to our repair store in Central London or you can use one of our convenient local drop off centers in Regent Street or Greycoat Place in the City of Westminster.
To get the best option for your Apple MacBook Pro 13 inch logic board repair or replacement needs in London or the UK, please give Creative IT UK a call on 020 7237 6805 or forward your request to us at info@creativeit.tv.
Creative IT UK has 13 inch MacBook Pro logic boards in stock for Apple part numbers: 661-5870, 661-5869, 661-5560, 661-5559, 661-5231 and 661-5230.