With professional London MacBook Air screen repair services, Creative IT UK provides an efficient way to get your 11 inch and 13 inch MacBook Air laptop screen repaired or replaced in a timely manner. Through our mail-in Apple MacBook Air repair support, we cover residential and business clients based all over the United Kingdom for all their Apple MacBook Air screen replacement, troubleshooting and repair services.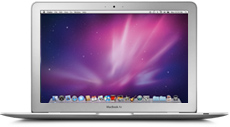 Whatever display issue you are having, just a simple crack running across your screen, coloured vertical lines, gray screen appears, dark spots on your notebook screen or a blank or discolored screen; Creative IT UK will help you with the right Apple MacBook Air screen repair solutions for all 11 inch and 13 inch notebook models. If your MacBook Air LCD screen is severely damaged and it is not repairable, our skilled technicians will simply install a brand new screen. We also perform component level screen repair services to solve graphics chip / graphics processing unit (GPU) related display problems. All our MacBook Air screen replacement services are carried out in-house and we ensure a standard service warranty for all parts and labour provided.
London Apple MacBook Air Screen Troubleshooting and Repair
We offer expert London MacBook Air screen repair for all types of screen issues such as:
Blurry or spotty MacBook Air screen
Visible cracks on MacBook Air screen
Multi-coloured lines running across the screen
Partially blacked out notebook screen
Dead screen or no display / video on the screen
Distorted video on the screen
Dead pixels on the LCD screen
Blue / green / red lines across the screen
Broken or cracked MacBook Air screen
Screen backlight doesn't work
Depending on the severity of the issue and screen and spare parts availability, we can complete the MacBook Air LCD screen repair process while-you-wait or same day. If you cannot visit our Central London store in person, simply mail-in your Mac laptop to us. On arrival your MacBook Air will go through a complete diagnosis and you will be informed with the repair task that needs to be done along with an estimated cost.
When you need your 11 inch or 13 inch MacBook Air screen fixed or replaced, just call us on 020 7237 6805 and our technical staff will assist you in all your needs. You can also request a London MacBook Air screen repair quote by emailing us at info@creativeit.tv.