Creative IT UK is a specialist Apple MacBook Air logic board repair store in the United Kingdom, offering reliable technical support for customers nationwide. All our Apple Mac laptop repair technicians are skilled and we provide professional Apple MacBook Air repair and upgrade support to home, business and educational clients across London and United Kingdom.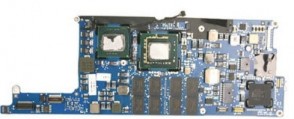 With many years of expertise in Apple MacBook Air logic board repair services, we are able to troubleshoot and fix a wide range of problems with your Mac logic board and are experts in MacBook Air 11 inch and 13 inch logic board repair and replacement services. Most common issues with MacBook Air logic boards may occur due to a bad input or output controller chip or a bad graphics chip or failure of integrated GPUs. Using the latest BGA rework reflow and reballing techniques, we can repair or replace component level logic board parts efficiently in the shortest possible time. We stock all common Mac laptop spare parts and you can simply take advantage of our quality MacBook Air logic board replacement service. All parts and labor we provide are backed by a standard service warranty of 90 days.
MacBook Air Component Level Motherboard Repair
We offer expert London MacBook Air logic board repair services for all types of common Mac notebook issues such as:
MacBook Air is not powering on
MacBook Air won't turn on
Repeated kernel panic problems
Notebook won't recognise USB or FireWire ports
MacBook Air freezing or keeps crashing
MacBook Air suddenly shuts down without warning
Fan noise and MacBook Air overheating issues
MacBook Air displays distorted video
MacBook Air won't detect SuperDrive
Overall slow performance
MacBook Air faulty Magsafe board
MacBook Air with liquid spill damage
Can't connect to wireless networks
MacBook Air screen is dark or very dim
MacBook Air won't boot up
Mail-In and Drop Off MacBook Air Logic Board Replacement and Repair [show]
Bath . Birmingham . Bradford . Brighton and Hove . Bristol . Cambridge . Canterbury . Carlisle . Chester . Chichester . City of London . Coventry . Derby . Durham . Ely . Exeter . Gloucester . Hereford . Kingston upon Hull . Lancaster . Leeds . Leicester . Lichfield . Lincoln . Liverpool . Manchester . Newcastle upon Tyne . Norwich . Nottingham . Oxford . Peterborough . Plymouth . Portsmouth . Preston . Ripon . Salford . Salisbury . Sheffield . Southampton . St Albans . Stoke-on-Trent . Sunderland . Truro . Wakefield . Wells . Westminster . Winchester . Wolverhampton . Worcester . York
Creative IT UK is located in Central London and you can simply visit us and get an affordable quote for your London MacBook Air logic board repair and replacement needs. We also work with mail-in nationwide and London MacBook Air logic board replacement orders and we ensure quick turnaround time. When we receive your notebook computer, our experts will make a thorough diagnosis and inform you with a detailed cost of the repair.
Call Creative IT UK today on 020 7237 6805 to get for more information about our London MacBook Air logic board repair service and support. You can also request a quote by emailing us at info@creativeit.tv.