Creative IT UK is an Apple Mac repair company based in Central London, offering exceptional Apple MacBook Air 13-inch logic board repair services to handle the various needs of residential and business clients. Our main objective is to ensure quality and quick response, and we are proud to have many satisfied customers nationwide to support our reliable Apple laptop repair services.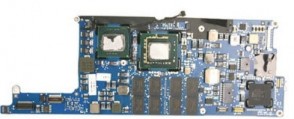 Creative IT UK offers personalized Apple MacBook Air 13-inch logic board repair services to go well with your busy schedule. You can just drop off your Mac laptop at our main repair store or we will have it picked up and delivered at your convenience. Once we have received your laptop, our Apple laptop logic board repair technicians will carry out an accurate diagnosis and propose the right Apple MacBook Air 13-inch logic board replacement or repair option for your laptop model. Our technicians have the skill and experience to work with all common Mac laptop issues such as no start up chime, notebook has no power when you try to turn it on, laptop liquid damage, defective ports, abnormal noises, MacBook Air display has no picture, MacBook Air won't boot, no fan or hard disk activity sounds, bad RAM slots, notebook freezing and crashing, laptop power issues, MacBook Air laptop overheating and Wireless issues.
MacBook Air 13″ Component Level Motherboard Repair
13.3 inch 2.13 GHz (MC234LL/A)
13.3 inch 1.86 GHz (MC504LL/A)
13.3 inch 1.86 GHz (MC503LL/A)
13.3 inch 1.86 GHz (MC233LL/A)
13.3 inch 1.86 GHz (MB940LL/A)
13.3 inch 1.7 GHz (MC966LL/A)
13.3 inch 1.7 GHz (MC965LL/A)
13.3 inch 1.6 GHz (MB543LL/A)
13.3 inch 1.6 GHz (MB003LL/A)
Mail-In and Drop Off MacBook Air 13″ Logic Board Repair and Replacement [show]
Bath . Birmingham . Bradford . Brighton and Hove . Bristol . Cambridge . Canterbury . Carlisle . Chester . Chichester . City of London . Coventry . Derby . Durham . Ely . Exeter . Gloucester . Hereford . Kingston upon Hull . Lancaster . Leeds . Leicester . Lichfield . Lincoln . Liverpool . Manchester . Newcastle upon Tyne . Norwich . Nottingham . Oxford . Peterborough . Plymouth . Portsmouth . Preston . Ripon . Salford . Salisbury . Sheffield . Southampton . St Albans . Stoke-on-Trent . Sunderland . Truro . Wakefield . Wells . Westminster . Winchester . Wolverhampton . Worcester . York
Contact Creative IT UK at 020 7237 6805 to receive an affordable Apple MacBook Air 13-inch logic board repair quote. You can also forward your troubleshooting or replacement request to us at info@creativeit.tv.
Creative IT UK has 13 inch MacBook Air logic boards in stock for Apple part numbers: 661-5798, 661-5797, 661-5734, 661-5733, 661-5198, 661-5197, 661-4918, 661-4917, 661-4644 and 661-4589.