Are you looking for an Aluminium PowerBook G4 Repair in London? There cannot be a better choice than Creative IT, a UK based company providing the best IT services that are available today. We are the leading providers of G4 PowerBook Aluminium repair in London. As professionals in this field, we offer complete PowerBook G4 Aluminium repair solution at affordable prices.
We are professionals in Mac and Apple Repair and can guarantee totally effective Aluminium PowerBook G4 Repair in London. We have a team of expert technicians who are masters in London PowerBook repairs. These hardware professionals and engineers are the strength of our company. With years of experience in the field of Apple G4 PowerBook Aluminium repair, they can rectify even the most complex problems in your G4 PowerBook machines. They make use of the latest tools and machinery to handle all Aluminium PowerBook G4 Repair jobs in London and provide the best service and value for money.
Before we repair your PowerBook G4 notebook, we make a thorough review about the defect. Based on the review made, we will repair your notebook. This technique ensures error free repairing for your Aluminium PowerBook G4.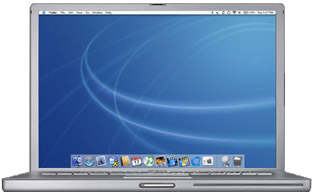 We can carry out G4 PowerBook repairing tasks such as replacing LCD and Flat Panel Displays, hard drive repairs, repairing keyboard, system board replacement, repairing power adapters and much more. We also specialize in memory and hard drive upgrades and virus removal. What's more, you can recover your valuable data lost from your Apple G4 PowerBook notebook by accidental deletion, physical damage, virus attacks etc through our London data recovery service. We understand your need for receiving prompt, effective Aluminium PowerBook G4 data recovery. With more than 10 years experience of hard drive and Apple Macintosh data recovery service behind us, you can be assured Creative IT has the capability to recover data from all media types regardless of format.
We provide onsite Aluminium PowerBook G4 repair service to our customers in London. Just give us a call and our onsite repairing team will reach your place within minimum hours of you call. If you are staying outside London, please ship your G4 PowerBook to us. We will carefully diagnose and repair it and deliver it back to you in total working condition at the earliest. Our London G4 PowerBook Aluminium repair services are available at competitive rates.
To know more about us and our services please explore our website www.creativeit.tv. If you have any doubts regarding our London Aluminium PowerBook G4 Repair service, please feel free to call Creative IT at 020 7237 6805. Our customer care professionals will handle your problems with ease. You can also email us at info@creativeit.tv.