Lenovo Legion Laptop Repair Experts in London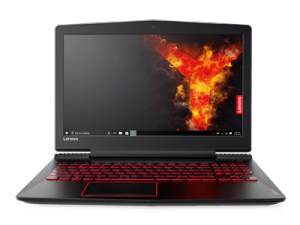 Creative IT, located in Central London, is a full service Lenovo laptop repair centre serving customers in and around London and all over the UK for the past 15 years. Our objective is to provide cost effective Lenovo Legion laptop repair and upgrade services while ensuring exceptional quality at all times.
At Creative IT, our experienced notebook repair technicians and hardware engineers have good expertise in troubleshooting and repairs of all Lenovo Legion gaming laptop models and are constantly dedicated to provide our clients with unrivaled services at highly competitive rates.
Does your Lenovo Legion Y series gaming laptop restart or shut down unexpectedly without displaying an error message or are you experiencing other Lenovo Legion notebook issues such as battery does not charge, battery drains too fast, no power at all, laptop is charging slowly, audio or sound problems in Windows, error message appears during startup, built-in microphone is not working, some keys on the keyboard are not working, Lenovo Legion laptop is overheating, black screen appears during boot, booting up issues, slow performance, keyboard backlight is not working, hard drive issues, memory (RAM) issues, laptop motherboard problems; Bluetooth issues in Windows, WiFi network issues or liquid or water spills on your gaming laptop.
Our expert laptop repair engineers are equipped to assist you with all your Lenovo Legion laptop repair requirements. They will quickly diagnose your notebook problems and offer you with an all inclusive quote for your repair or upgrade service.
We offer quick turnaround repair and upgrade services for all Lenovo Legion gaming notebook models including:
Lenovo Legion Y7000P-1060
Lenovo Legion Y720-15IKB
Lenovo Legion Y730-15ICH
Lenovo Legion Y730-17ICH
Lenovo Legion Y920-17IKB
Lenovo Legion Y520-15IKBA
Lenovo Legion Y520-15IKBM
Lenovo Legion Y520-15IKBN
Lenovo Legion Y530-15ICH
Lenovo Legion Y530-15ICH-1060
Lenovo Legion Y7000P
Same Day London Lenovo Legion Repair and Upgrade
Some of the professional services that we offer as part of our London Lenovo Legion laptop repair, replacement and upgrade services include:
Lenovo Legion keyboard repair / replacement
Lenovo Legion backlight repair / replacement
Lenovo Legion screen repair / replacement
Lenovo Legion hard drive upgrade / replacement
Lenovo Legion memory (RAM) upgrade / replacement
Lenovo Legion motherboard repair and replacement
Lenovo Legion data recovery and data transfer
Lenovo Legion power supply repair / replacement
Lenovo Legion graphics card repair / upgrade
Removal of virus / adware / spyware
Lenovo Legion liquid damage repair
Professional Repair Service at Affordable Prices
We offer same day services to customers based in and around London and quick turnaround services to nationwide customers in the UK. We can also arrange secure courier pick up of your faulty Lenovo notebook computers for those who cannot bring it to our Central London repair centre.
To know more about our high-quality London Lenovo Legion laptop repair and upgrade services, contact us at 020 7237 6805 or e-mail us at info@creativeit.tv.