For quick Lenovo IdeaPad laptop repair services, come to Creative IT! With just about two decade's expertise in the scenario, Creative IT offers exceptional Lenovo laptop repair services to individuals and home users to office and business clients in the UK. At Creative IT, what that makes us one of the most preferred repair facilities in the UK are factors such as friendly, professional work staff that include proficient laptop engineers and experienced technicians; most advanced diagnostic equipments and fast turnaround services.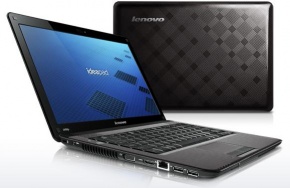 Let it be hardware or software problems, our work team is capable enough to service and handle all types of Lenovo IdeaPad laptop problems like memory and component level issues, virus related problems, blue screen to death, system crashes, distorted or scrambled video on the laptop screen, no video on the screen, multiple images or random characters on the screen, CPU overheating, broken LCD screen and laptop freezing issues. However, the services we render are more than just laptop repair and also include outstanding upgrade and replacement services to improve the performance of your existing Lenovo IdeaPad notebook by means of swapping the defective parts with brand new ones. We have a complete line of genuine Lenovo hardware components and spare parts in our vast product range.
Professional Lenovo IdeaPad Repair and Upgrade
Our expert Lenovo IdeaPad laptop repair technicians can perform repair and upgrade of all Lenovo IdeaPad laptop models of the Lenovo IdeaPad U series and specialize in:
Lenovo IdeaPad U350 Repair
Lenovo IdeaPad U450 Repair
Lenovo IdeaPad U450p Repair
Lenovo IdeaPad U550 Repair
Among many of the services that we offer as a part of specialist London Lenovo IdeaPad laptop repair services are:
Memory (RAM) upgrade and replacement
Motherboard repair and replacement
Lenovo IdeaPad LCD screen replacement
Data recovery and back up
Data migration to the media of your choice
Virus /Adware / Spyware removal
Installation of Anti Virus software
Resolving Email related issues
Software troubleshooting and upgrade
Operating system installation and upgrade
Laptop component level repair
Lenovo IdeaPad backlight repair and replacement
Lenovo IdeaPad Keyboard repair and replacement
CD / DVD ROM repair and replacement
Graphics card repair
Lenovo IdeaPad hinge repair and replacement
Lenovo IdeaPad DC power jack replacement
We offer same day Lenovo IdeaPad repair services to customers based in and around London and fast services to UK customers. In addition to our professional in-house services, we provide professional courier pick up services and on-site laptop repair services to clients who cannot bring their faulty laptop to our Central London repair centre.
As part of our London Lenovo IdeaPad laptop repair and upgrade services, we service the following IdeaPad notebook models and are experts in:
Lenovo IdeaPad U110 Repair
Lenovo IdeaPad U150 Repair
Lenovo IdeaPad U330 Repair
Lenovo IdeaPad Y330 Repair
Lenovo IdeaPad Y430 Repair
Lenovo IdeaPad Y450 Repair
Lenovo IdeaPad Y510 Repair
Lenovo IdeaPad Y530 Repair
Lenovo IdeaPad Y550 Repair
Lenovo IdeaPad Y550P Repair
Lenovo IdeaPad Y650 Repair
Lenovo IdeaPad Y710 Repair
Lenovo IdeaPad Y730 Repair
Lenovo IdeaPad Y730 Repair
So allow us to be your service provider so as to troubleshoot and fix your entire problems that affect your Lenovo IdeaPad notebook. To know more about our London Lenovo IdeaPad laptop repair services, we are just a phone call away and you can contact us at anytime between 09:00 and 18:00 hrs from Monday through Saturday on 020 7237 6805. We also without delay answer to queries send through info@creativeit.tv.