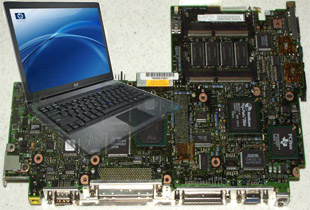 Experiencing problems with your laptop motherboard? Then you have come to the right place. Creative IT, based in London, one of the top most IT companies in the UK is a one-stop solution for all your laptop motherboard repairs. Our services also include computer repair and upgrade, laptop and notebook repair, server repair, data recovery, web designing and web development apart from specializing in laptop motherboard repair / laptop system board repair.
The motherboard is possibly the most significant part of a laptop after the processor. It is also not simple to repair a laptop motherboard on account of its immense intricacies. Whenever a trouble with your laptop motherboard arises, one should not take the risk of repairing it themselves. It is always advisable to entrust your laptop motherboard repairs to an industry expert such as Creative IT. We have professional technicians who have vast expertise in dealing with laptop motherboard problems and can make the accurate diagnosis and carry out laptop motherboard repairs successfully.
Professional Laptop Motherboard Repair
Alienware Laptop Motherboard Repair
Asus Laptop Motherboard Repair
Compaq Laptop Motherboard Repair
Ei System Laptop Motherboard Repair
eMachines Laptop Motherboard Repair
Fujitsu Laptop Motherboard Repair
Gateway Laptop Motherboard Repair
IBM Laptop Motherboard Repair
Lenovo Laptop Motherboard Repair
NEC Laptop Motherboard Repair
Packard Bell Laptop Motherboard Repair
Panasonic Laptop Motherboard Repair
Patriot Laptop Motherboard Repair
Siemens Laptop Motherboard Repair
Toshiba Laptop Motherboard Repair
Whatever may be the problem with your laptop motherboard, Creative IT can solve it. A faulty or damaged laptop motherboard can display numerous problems. The most frequent of them is to show no sign of activity which can be a result of malfunction of a simple resistor or a major component.
The engineers and technicians at Creative IT have many years of experience in motherboard electronics and in repairing electronic circuits to their credit.
Some resistors and capacitors in a laptop motherboard are hardly visible to the naked eye. With hundreds of minute components on a single motherboard it is very complicated to make out where the fault lies. The state of the art equipment coupled with years of experience of our expert engineers makes it easy to diagnose and rectify the laptop motherboard problem.
We quickly identify the faulty parts on your laptop motherboard such as a bad capacitor, bad voltage regulator chip, bad BGA chip, integrated circuits, connectors, transistors, zenor diodes, resistors etc and replace them with new ones. We are highly skilled in providing laptop motherboard repair for almost all makes and models of laptops of IBM, Sony, Acer, Compaq, Dell, Toshiba, Apple, Asus, Panasonic, Packard Bell, Siemens, HP, Gateway, Fujitsu, Lenovo, NEC and Alienware.
Our laptop motherboard repair service guarantees the best quality repair and maintenance with minimum charges. Subject to parts availability, we can fix your laptop motherboard problems effectively and efficiently within 48 hours. Here at Creative IT we mainly aim at customer satisfaction. We maintain years of strong relationships with our clients. Innovation and flexibility has been the driving force behind our services.
Creative IT provides you the best solution for laptop motherboard repairs in London in addition to helping you to save your money and effort. You do not have to think twice when choosing us. For more details about our London laptop motherboard repair, please feel free to contact us at 020 7237 6805 or email us at info@creativeit.tv. We will promptly respond to all your queries on laptop motherboard repair in London and surrounding areas.