A defective or damaged laptop motherboard can display several problems. A faulty power supply is a major reason for damaging laptop motherboards. Power supply fluctuations and spikes can easily cause damage to your computer motherboard. A laptop may also randomly shut down due to overheating and dust accumulation in addition to other notebook motherboard issues. There may also be issues due to a manufacturing defect such as leaking electrolytic capacitors. In some situations your motherboard may be extensively damaged beyond repair. In such situations the only alternative will be to replace the laptop motherboard.
Common Laptop Motherboard Problems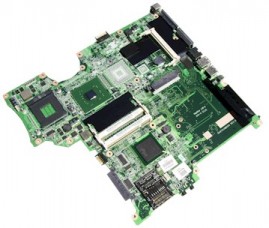 Laptop not turning on
No power at all / no signs of life
Bad failing BIOS chip
Blue Screen errors
Laptop shuts down randomly
Video display problems
Laptop components won't work
Laptop acts unusually
Dead laptop computer
No display or dim display
Laptop freezing or hangs
Startup and shut down problems
Laptop screen distortion/discoloration
USB ports not functioning
Laptop battery not charging
Damaged or loose DC power jack
Fan runs constantly, laptop operates slowly and generates heat
Missing NTLDR serious error message appears during start up
BIOS shows incorrect product number
Operating System Not Found appears on black screen
Missing Operating System error message appears on black screen
Sorry for the inconvenience, but Windows failed to start successfully appears
162 – System Options Not Set Error Message
178x – Disk Controller Error appears on black screen
Disk Controller Error or Multibay Lock error message during boot
Error messages appear on a black screen
PXE-E61: Media Test Failure error appears on black screen
Black screen displays with no error messages
Troubleshooting Laptop Motherboard Problems
At Creative IT, based in London, we are time and again faced with a number of issues associated with laptop motherboards including liquid damage faults. Our experienced team of component level laptop motherboard repair technicians have several years of practical experience in troubleshooting and fixing various motherboard problems. We take advantage of state-of-the-art equipment and tools including advanced BGA rework station to make out and repair laptop motherboard problems without difficulty.
Advance Chip-level Laptop Motherboard Repair
We offer component level laptop motherboard repair services for all Dell, Toshiba, Apple, Asus, IBM, HP, Gateway, Fujitsu, Lenovo, Sony, Compaq, Acer, Alienware, Sager, Panasonic, Packard Bell, Siemens, Advent and eMachines notebook models. Our technicians have undergone extensive chip level training and have specialist knowledge of IC Chip soldering and desoldering, BGA chip reballing and rework services.
Creative IT, offers fast and competent laptop motherboard troubleshooting and laptop motherboard repair and replacement services even for the most challenging problems. Please send us an email to info@creativeit.tv or call us on 020 7237 6805. Our repair centre is open Monday to Saturday from 0900 till 1800.