A hard disk failure is one of the most common laptop computer hardware problems. Generally speaking a hard disk failure that causes potential data loss of can be a result of firmware corruption, electronic failure, logical corruption or mechanical failure. If it is an electronic failure, the hard disk will be dead and will not be recognised by the laptop and will not spin up. The hard drive will make ticking, clicking or knocking sound in case of a mechanical failure. The noise indicates that the read/write head mechanism is incorrectly touching the surface of the drive. Laptop slowdowns can often be due to viruses and spyware attacks.
Common Laptop Hard Drive Problems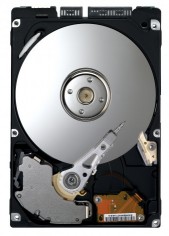 Incorrect disk drive size / drive capacity
SMART Media Test error appears when laptop starts
HDD has no function
No hard drive access
HDD has read/write errors
A high pitched or buzzing sound occurs
Corrupted file system
Bad sectors on the hard disk
Defective motor (prevents drive from spinning)
Slow laptop hard drive access
Bad hard drive controller
Mechanical damage to the read arm or heads
Corrupted boot record
Lost master boot record (MBR)
Damaged or corrupted file structures or partitions
Printed circuit board (PCB) failure
Hard drive platter damage
Laptop won't turn on
Blue screen of death (BSoD)
Laptop keeps crashing
Laptop continuous rebooting
Laptop freezes often and hanging
Water and other liquid damaged hard drive
Overheating hard drives
Dropped laptop hard drive
Sabotage or user damage
Burned hard drive
Imminent hard disk failure error message appears
Hardware_disk failure appears after startup or boot
Operating system is corrupt
Troubleshooting Laptop Hard Drive Failure
At Creative IT, we are time and again faced with a number of issues related to laptop hard drives. Our experienced team of technicians and data recovery experts can check the data on your hard disk drive for potential problems and fix them accordingly. With good experience, data recovery specialists and Class 100 clean room facility, we provide standard and express hard drive data recovery services for all Dell, Toshiba, Apple, Asus, IBM, HP, Gateway, Fujitsu, Lenovo, Sony, Compaq, Acer, Alienware, Sager, Panasonic, Packard Bell, Siemens, Advent and eMachines notebook models.
Creative IT, based in London, offers quick, secure and efficient laptop hard drive troubleshooting and laptop hard drive data recovery and data transfer services from all hard drive failure and data loss situations. Please send us an email to info@creativeit.tv or call us on 020 7237 6805. Our repair centre is open Monday to Saturday from 0900 till 1800.