Blue Screen errors occur when your Windows operating system detects an error it cannot recover from without losing data, Windows detects that critical OS data has become corrupted or when Windows detects that hardware has failed in a non-recoverable manner. Blue screen error can appear after installing new hardware or software. Stop errors are typically hardware or driver related, causing the computer to stop responding in order to prevent damage to the hardware. Your Windows operating system will halt and the diagnostic information is displayed on a blue screen.
Common Laptop Blue Screen (STOP) Error Messages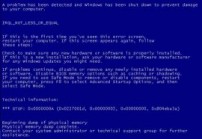 Blue screen error messages during startup or boot
Error messages during shutdown
AFS2K.SYS" serious error message during startup
Multipl_IRP_Complete_Request
Page Fault In NonPaged Area message
HARDWARE_DISK Failure appears after startup or boot
Windows unsafe or sudden shutdown blue screen error
Unmountable_Boot_Volume error in Windows
Windows start up reboot loop (caused by a Blue Screen error)
Missing NTLDR error message during startup
IRQL NOT LESS OR EQUAL error message
Memory Corruption error message
Missing Operating System error message appears on black screen
Sorry for the Inconvenience, but Windows Failed to Start Successfully
178x – Disk Controller Error on black screen
PXE-E61: Media Test Failure on black screen
svchost.exe or 0x745f2780 error message appears
Missing or Corrupt LSASS or W32.Sasser.worm
Cannot Create or Replace a File or Folder in Windows
Fatal Exception Errors in Windows
Low on Disk Space or Out of Disk Space
162 – System Options Not Set on black screen
LSASS.EXE error message on black screen
Operating System Not Found error message appears on black screen
Other serious error message that appear during startup include Smwdm.sys, ccApp.exe is not responding, HTTP.SYS, USBUHCI.sys, CSRSS.exe, EAPS2KBD.sys, Delprot.sys, SRVLOC.sys, SAVRT.SYS, AGRSM.sys and Ati3d1ag.dll.
Blue Screen or STOP Error Message Troubleshooting
At Creative IT, our experienced technicians have good knowledge in troubleshooting common software and driver stop messages and also in troubleshooting and fixing hardware and system file based blue screen error messages. They are familiar with why the error messages occur, how to distinguish them and how to resolve the more common error messages. We can troubleshoot and fix Blue Screen (STOP) errors for all Dell, Toshiba, Apple, Asus, IBM, HP, Gateway, Fujitsu, Lenovo, Sony, Compaq, Acer, Alienware, Sager, Panasonic, Packard Bell, Siemens, Advent and eMachines notebook models.
Creative IT, based in London, offers same day Blue Screen Of Death (BSoD) or stop error message troubleshooting services. Please send us an email to info@creativeit.tv or call us on 020 7237 6805 to effectively fix your laptop blue screen errors. Our repair centre is open Monday to Saturday from 0900 till 1800.