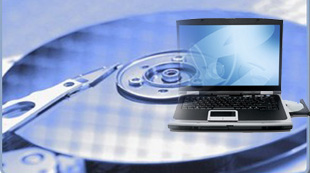 Lost your laptop data? Or accidentally deleted your laptop data? Don't worry, we can help you. We at Creative IT are the leading providers of Laptop Data Recovery service. We are a London based company, providing our Laptop Data Recovery Services to customers in and around London. Creative IT has the essential Laptop Data Recovery Experience you need to recover data from all forms of laptop and notebook failures. We have to our credit an outstandingly high recovery rate on laptop hard drives.
Your laptop data may be lost at times of crashes, during accidental deletion of data or sometimes your files may have simply disappeared. Data loss can be brought about by virus attacks, electrical issues, equipment malfunctions, mechanical hard drive failures, human error and corrupt partitions. We at Creative IT have thorough knowledge of hard-disk technologies to ensure your valuable laptop data is recovered effectively. We can even recover your lost data if you have formatted or partitioned your hard drive or your hard drive has suffered from physical damage. Along with Laptop Data Recovery, we also specialize in Hard Disk Data Recovery, Server Data Recovery, and Desktop Data Recovery.
Creative IT can recover data from laptops in situations where most other data recovery service providers in the business have been unsuccessful. We provide our service with a team of skilled technicians, who have in-depth knowledge and experience of state of the art methodologies to get your laptop back in perfect working condition at the earliest possible. They can ensure your data is recovered successfully. We have productively performed Laptop Data Recovery from hard drives for all manufacturers of notebooks and laptops such as IBM, Sony, Compaq, Dell, Toshiba, Apple, Asus, Panasonic, Packard Bell, Siemens, HP, Gateway, Fujitsu, Lenovo, NEC and Alienware.
In majority of the laptop data recovery cases, only the laptop's hard drive is all that is considered necessary by Creative IT. However, in situations where the laptop has been physically damaged, please feel to entrust us with your entire system. As soon as the evaluation is complete, our customer care professionals will inform you an estimate of the charges for our data recovery service. Only on the customers' approval to our charges, do we commence the Laptop Data Recovery Service.
Creative IT is proud to be a leader in the field of Laptop Data Recovery. We will be pleased to extent our affordable Laptop Data Recovery Service to our customers in London in the fastest possible time at affordable prices. To know more about our London Laptop Data Recovery service e-mail us at info@creativeit.tv or give us a call on 0207 237 6805.