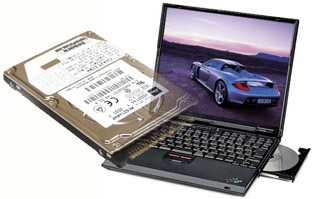 Creative IT, the fastest growing IT solution provider in the UK, offers a wide range of computer and laptop repair services. So have you upgraded your technology and got a new laptop, but you don't want to lose all of the documents and files on your old laptop. No problem. We provide the industry's most reliable, fast and efficient laptop data migration services.
Our laptop data migration solutions are designed to effectively manage your business continuity along with cost competitiveness. Creative IT has served some of the biggest names in the UK IT and service industry to move their laptop data flawlessly into their new systems or storage devices. All our technical staffs have the necessary knowledge and specific tools necessary for successful and professional laptop data migration services.
We extend our laptop data migration services for IBM, Sony, Acer, Compaq, Dell, Toshiba, Apple, Asus, Panasonic, Packard Bell, Siemens, HP, Gateway, Fujitsu, Lenovo, NEC and Alienware and many other laptops and notebooks. Our highly experienced data migration technicians will work with you and securely migrate your valuable data from your laptop regardless of the complexity of your environment. Our track record of successful laptop data migration services is second to none in the industry.
Laptop data migration services help you reduce the risk of data loss, ensure data integrity, and enhance the performance of your business in the long run. Creative IT can migrate data from a vast range of storage media such as tape media, hard disk drives (from a PC or laptop), servers (multi-drive RAID, SAN, NAS etc), and removable media (CDs, DVDs etc). We provide expert service to ensure continuous access to information.
To ensure complete satisfaction with our laptop data migration solution, we provide you clear and concise reports. Creative IT will provide you with a free migration evaluation and quote within 24 hours of receiving your storage media. Avail of premium laptop data migration services using the latest technologies at unbeatable prices. We respond quickly and effectively to your calls. Do not think twice to choose us when it comes to London laptop data migration.
We are always ready to find effective solutions for you. To know more about the laptop data migration service and other major services offered by Creative IT, visit our website www.creativeit.tv . If you have any problem or questions associated with laptop data migration in London, then call us at 020 7237 6805 or e-mail us at info@creativeit.tv to receive the highest quality laptop data migration service at amazingly affordable prices.