Creative IT is an IT consultant and a computer repair and maintenance company based in London, offering its services all over the UK. Losing the backlight makes the laptop unusable. We undertake Laptop Backlight Repair of all the major laptop brands such as IBM, Sony, Compaq, Dell, Toshiba, Apple, Asus, Panasonic, Packard Bell, Siemens, HP, Gateway, Fujitsu, Lenovo, NEC and Alienware.
Laptop Backlight Repair Services offered by Creative IT involves very skillful replacement of the backlight since the LCD is made up of very thin glass and needs to be handled with immense care. The backlight of a laptop uses voltages up to 1000 Volts. The Laptop/LCD backlight or a CCFL (Cold Cathode Fluorescent Lamp) has a life time of 10000 to 20000 hours and is driven by an inverter. Laptop Backlight is found behind the LCD screen and comes in various sizes, lengths, diameters and intensities. This fluorescent cathode is filled with mercury vapor which allows for the display of different colors on the laptop screen. Extra pressure applied on the tube's ends can cause leakage of the gas.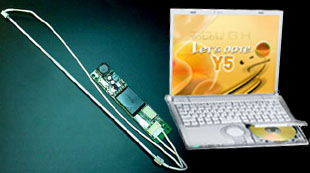 Usually a problem with the laptop backlight shows up either as a red display screen or the LCD screen becomes dim lit. A black screen can mean that the backlight has burnt. An associated fault is where you can hear a hissing noise from the screen. Often multiple parts may need to be changed as short circuits in one part may cause other parts to fail. We have specialist tools to help us identify the major defects and to identify which parts need replacing in order to rectify the backlight problem. At Creative IT, Laptop Backlight Replacement is always done with a brand new CCFL from the factory. Or if the inverter driving the backlight is found to be defective we test out the backlight inverter and if necessary replace the electronic components on the inverter and get the backlight back to working condition.
Creative IT's experienced laptop engineers can even carry out onsite repairs at the client's home or at your business location. Laptop Backlight Repairs are usually done within 48 hours. We have very affordable and cost effective repair backlight repair charges, especially with comprehensive maintenance contracts. For more details regarding our Laptop Backlight Repair in London, browse through our website or just e-mail us at info@creativeit.tv. You can even give us a call on 0207 237 6805.