Apple iMac Pro Repair Experts in London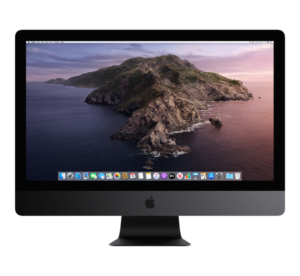 If you are looking for a fast and effective Apple iMac Pro repair or upgrade service in London, then look no further and get in touch with Creative IT, based in Central London. Whether it is a software or hardware issue with your 27-inch Apple all-in-one desktop computer (Intel Xeon 8, 10, 14, or 18 core), our experienced team of Apple Mac repair engineers is competent to diagnose the issue with your workstation computer and offer a quick and efficient service.
The iMac repair experts at Creative IT have the experience and state of the art diagnostic and repair equipment to help you with any kind of issues such as iMac Pro startup issues, your iMac Pro won't turn on, Mac desktop computer starts up to a blank screen, iMac pro constantly crashes, enclosure damage, display turns off during startup or updates, cracked screen, liquid damage, faulty iMac Pro AMD Radeon Pro Vega graphics processing unit (GPU), logic board or power supply failure, speaker problem, broken or loose hinge, iMac Pro overheating or camera not working. Our Apple iMac Pro repair team is dedicated to fixing any problems you may experience and will ensure that your workstation computer (A1862) (MQ2Y2LL/A) is repaired to the highest standards.
Our London Apple iMac Pro repair and upgrade services include:
iMac Pro Screen Repair / Replacement
iMac Pro SSD Replacement / Upgrade
Memory / RAM Replacement / Upgrade
Space Gray Magic Keyboard Replacement
iMac Pro SSD Data Recovery
iMac Pro Logic Board Repair / Replacement
Speaker Repair / Replacement
iMac Pro Water Damage Repair
Give us a call on 020 7237 6805 right now and speak to one of our professional Mac technicians to get a cost-efficient quote to fix your desktop computer (Apple Model Number: A1862) (MQ2Y2LL/A). For more information about our London Apple iMac Pro repair and upgrade services, please email us at info@creativeit.tv.
We specialise in repairs of all models of iMac Pro workstation computers
Processor:
3.2 GHz 8-core Intel Xeon W processor, Turbo Boost up to 4.2 GHz
3.0 GHz 10-core Intel Xeon W processor, Turbo Boost up to 4.5 GHz
2.5 GHz 14-core Intel Xeon W processor, Turbo Boost up to 4.3 GHz
2.3 GHz 18-core Intel Xeon W processor, Turbo Boost up to 4.3 GHz
Memory:
32GB 2666MHz DDR4 ECC memory
64GB 2666MHz DDR4 ECC memory
128GB 2666MHz DDR4 ECC memory
256GB 2666MHz DDR4 ECC memory
Graphics:
AMD Radeon Pro Vega 56 with 8GB of HBM2 memory
AMD Radeon Pro Vega 64 with 16GB of HBM2 memory
AMD Radeon Pro Vega 64X with 16GB of HBM2 memory
Storage:
1TB PCIe-based NVMe SSD storage
2TB PCIe-based NVMe SSD storage
4TB PCIe-based NVMe SSD storage