Worried about how to get your out-of-warranty Apple iMac G5 in London repaired? Or not able to find a reliable service provider in London to get your Apple iMac G5 repaired? Finding an experienced professional capable of undertaking your Apple iMac G5 repair with a proficient approach can be a complicated task. Let Creative IT offer you our assistance. Get your iMac G5 fixed by Creative IT – the most trusted name for Apple Macbook, iBook, Macbook Pro, iMac, PowerBook, eMac, G3, G4, G5 and Mac mini repairs in London. Apple iMac G5 is one of our area of expertise and Creative IT has years of experience in proving professional Apple iMac G5 repair support services to small and corporate businesses and home users in central London.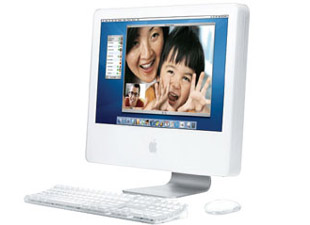 Apple iMac G5 is the thinnest desktop available in the market. The entire computer, not just the desktop, fits on a stand and is only two inches thin. Here at Creative IT, we carry out repair of all models of Apple iMac G5 models such as 1.6GHz, 1.8GHz, 2.0GHz, 1.9 GHz and 2.1GHz models. As an Apple service provider in London, we carry out maintenance and upgrades for the entire Apple iMac G5 series. Creative IT only employs Apple trained technicians who are friendly and can efficiently troubleshoot all of the customer's Apple iMac G5 problems.
Our Apple iMac G5 repair services include troubleshooting hardware and software problems, RAM and hard disk upgrades, logic board repair, power supply repair, LCD display panel repair, Wireless network set-up and configuration with security, upgrade existing systems with high-quality components, fitting of wireless cards and examining vital components of your Apple iMac G5 machines for wear and tear.
We can also boost your system to run at maximum efficiency. In addition to Apple iMac G5 repair in London, Creative IT also offers consultancy services by Apple Technicians to make informed decisions and avoid costly mistakes. We can supply and install all Apple iMac G5 hardware at competitive rates in London.
Creative IT provides both onsite and offsite Apple iMac G5 repair service in London. So, the next time you face any startup problems, freezes and crashes, networking problems or hard drive failures with your Apple iMac G5 system, just give us a call at 020-7237-6805. We will respond to your call promptly and provide you with expert Apple iMac G5 repair in London, UK.