Creative IT UK, a Central London based logic board repair store, offers a full range of technical solutions to meet your Apple iBook G4 14 inch logic board repair needs. At Creative IT UK, we know that individuals and businesses have confidence or faith in fast and expert Apple laptop logic board repair services and therefore we have developed our reputation in delivering the exact services you require.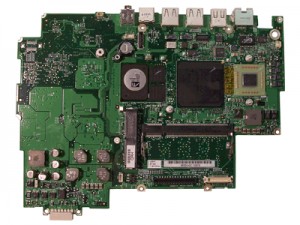 We have highly trained Apple laptop repair and technical personnel together with the latest technology equipment to work with your specific Apple iBook G4 14 inch logic board repair needs. Whether it is a repair support or a comprehensive Apple iBook G4 14 inch logic board replacement you need, we will have you covered with warranty assured repair services. Our experts will help you in resolving various iBook G4 laptop issues such as iBook G4 notebook won't power up or won't turn on, image or video distortion, laptop is booting and functioning very slow, lines across the laptop screen, iBook G4 notebook overheating, laptop freezes soon after start up, sleep problems with iBook G4, memory slot failure, liquid spilled on your Mac, iBook G4 screen remains completely black or blank, kernel panics, SuperDrive issues, no startup chime and Internet connection problems.
Apple iBook G4 14″ Component Level Motherboard Repair
14.1 inch 1.42 GHz PowerPC G4 (M9848LL/A)
14.1 inch 1.33 GHz PowerPC G4 (M9628LL/A)
14.1 inch 1.33 GHz PowerPC G4 (M9627LL/A)
14.1 inch 1.2 GHz PowerPC G4 (M9419LL/A)
14.1 inch 1 GHz PowerPC G4 (M9418LL/A)
14.1 inch 1 GHz PowerPC G4 (M9165LL/A)
14.1 inch 933 MHz PowerPC G4 (M9388LL/A)
Mail-In and Drop Off iBook G4 14″ Logic Board Repair and Replacement [show]
Bath . Birmingham . Bradford . Brighton and Hove . Bristol . Cambridge . Canterbury . Carlisle . Chester . Chichester . City of London . Coventry . Derby . Durham . Ely . Exeter . Gloucester . Hereford . Kingston upon Hull . Lancaster . Leeds . Leicester . Lichfield . Lincoln . Liverpool . Manchester . Newcastle upon Tyne . Norwich . Nottingham . Oxford . Peterborough . Plymouth . Portsmouth . Preston . Ripon . Salford . Salisbury . Sheffield . Southampton . St Albans . Stoke-on-Trent . Sunderland . Truro . Wakefield . Wells . Westminster . Winchester . Wolverhampton . Worcester . York
To get a free quote on Apple iBook G4 14 inch logic board repair, just fill in our quick contact form. You can also contact Creative IT UK through telephone on 020 7237 6805 or send us an email at info@creativeit.tv.
Creative IT UK has 14 inch iBook G4 logic boards in stock for Apple part numbers: 661-3651, 661-3417, 661-3344, 661-3191, 661-3105 and 661-2995.