Located in Central London, Creative IT UK is a reliable source for expert Apple iBook G4 12 inch logic board repair, troubleshooting and replacement services. With affordable prices, fast turnaround times and excellent customer service, our aim is to meet your Apple laptop logic board repair requirements in a customised manner. We service home and business clients across the United Kingdom with mail-in Apple laptop repair solutions.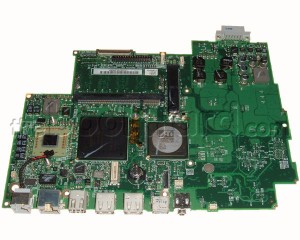 Whether your requirement is a basic repair or need a complete Apple iBook G4 12 inch logic board replacement support, Creative IT UK has the expertise to work with any requirement. We can repair and replace defective logic board components and parts efficiently through our advanced equipment that includes ball grid array (BGA) rework stations. We offer top quality Apple iBook G4 12 inch logic board repair services for all types of notebook issues such as power issues, iBook G4 notebook computer will not turn on or start up, video on iBook is distorted or scrambled, kernel panics, fan problems, iBook G4 laptop freezing, blank screen on start-up, screen is showing vertical or horizontal lines, failure of the memory slot, jumbled screen images, audio problems, intermittent video, iBook G4 laptop overheating and Wireless connection issues.
Apple iBook G4 12″ Component Level Motherboard Repair
12.1 inch 1.33 GHz PowerPC G4 (M9846LL/A)
12.1 inch 1.2 GHz PowerPC G4 (M9623LL/A)
12.1 inch 1 GHz PowerPC G4 (M9426LL/A)
12.1 inch 800 MHz PowerPC G4 (M9164LL/A)
Mail-In and Drop Off iBook G4 12″ Logic Board Repair and Replacement [show]
Bath . Birmingham . Bradford . Brighton and Hove . Bristol . Cambridge . Canterbury . Carlisle . Chester . Chichester . City of London . Coventry . Derby . Durham . Ely . Exeter . Gloucester . Hereford . Kingston upon Hull . Lancaster . Leeds . Leicester . Lichfield . Lincoln . Liverpool . Manchester . Newcastle upon Tyne . Norwich . Nottingham . Oxford . Peterborough . Plymouth . Portsmouth . Preston . Ripon . Salford . Salisbury . Sheffield . Southampton . St Albans . Stoke-on-Trent . Sunderland . Truro . Wakefield . Wells . Westminster . Winchester . Wolverhampton . Worcester . York
Please feel free to contact Creative IT UK in Central London to schedule your Apple iBook G4 12 inch logic board repair service. You can call us on 020 7237 6805 or forward an email to us at info@creativeit.tv.
Creative IT UK has 12 inch iBook G4 logic boards in stock for Apple part numbers: 661-3646, 661-3415, 661-3188 and 661-2992.