Why pay money for a new laptop when Creative IT is here to help you with exceptional Lenovo ThinkPad laptop repair and upgrade services? Creative IT is a Central London based laptop computer repair centre that specialises in delivering high-quality Lenovo laptop repair services. With several years of experience in the industry, we strive to provide cost effective laptop repair and upgrade services while ensuring high standard. Among many of the factors that make us special from our competitors are the services offered by our professional team that includes expert hardware engineers, data recovery specialists and trained technicians.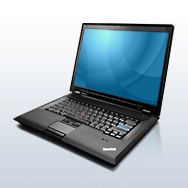 Does your Lenovo ThinkPad laptop encounter problems such as blue screen of death, memory or hard disk problems, distorted or scrambled video on the laptop screen, no video on the screen, multiple images on the screen, virus or bug related problems or component level issues or don't you know the real reason for the slow performance of your Lenovo ThinkPad laptop? Then don't worry; our expert team can help you troubleshoot and fix your Lenovo ThinkPad laptop related issues with minimal time and investment. Since we have a good stock of Lenovo compatible spare parts in our extensive product line, we also provide outstanding Lenovo ThinkPad upgrade and replacement services to boost the performance of your existing notebook, no matter whatever the model.
Professional Lenovo ThinkPad Laptop Repair and Upgrade
Among the wide range of services that we offer as a part of our London Lenovo ThinkPad laptop repair and upgrade services are:
Motherboard repair and replacement
Lenovo ThinkPad Keyboard repair and replacement
RAM upgrade and replacement
Processor upgrade and replacement
Hard drive upgrade and replacement
LCD backlight repair and replacement
Virus / Spyware / Adware removal
Installation of anti virus software
Software troubleshooting and upgrade
Laptop graphics card repair
Lenovo ThinkPad hinge repair and replacement
Lenovo ThinkPad DC power jack replacement
Apart from specialist Lenovo ThinkPad laptop repair and upgrade services, we also render excellent services to recover lost data from your ThinkPad laptop that have been lost due to a wide range of problems like mechanical hard drive failures, component failures, accidental deletion of files, disk reformatting, data corruptions and physical damages.
We offer same day Lenovo ThinkPad laptop repair services to customers based in and around London and fast services to UK customers. In addition to our specialized in-house services, we can also arrange for a professional courier pick up service or provide on-site Lenovo notebook repair to clients who cannot bring their faulty notebook computer to our Central London repair centre.
To get information on our London Lenovo ThinkPad laptop repair and upgrade services, you can contact us at anytime on 020 7237 6805 from Monday through Saturday between 09:00 and 18:00. You can also forward your queries to info@creativeit.tv.