Need help to repair your HP Pavilion PC? Want to recover data from your crashed HP Pavilion desktop computer? Then, find solutions to all these disturbing problems at Creative IT. We are a reputable PC computer repair and servicing company in London, UK providing a wide range of computer repairs, laptop repairs and IT related services. We have long term experience in repairing all makes and models of computers and in solving various types of IT related issues and problems.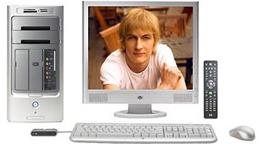 At Creative IT, we can provide prompt solutions to all types of HP PC repair problems. We have a team of highly experienced and certified technicians who can repair HP Pavilions in a professional and efficient manner. With their experience in working with almost all series of HP Pavilion desktop PCs such as HP Pavilion a1700 PC series, HP Pavilion Slimline s7700 PC series, HP Pavilion t3700 PC series, HP Pavilion a6000 PC series, HP Pavilion Media Center m8000 PC series and HP Pavilion Slimline s3000 PC series they can handle general and minor PC repair services and more advanced tasks such as fixing power jack problems, software problems, networking maintenance, hardware failures or upgrades, virus / spyware attacks and Internet problems.
Professional HP Pavilion Desktop PC Repair and Upgrade
Here at Creative IT, we provide both on-site and in-house London HP Pavilion PC repair service. Our on-site services are available to all types of HP Pavilion PC users such as businesses and home offices. We also have the capability to resolve your HP Pavilion PC computer problems remotely. With our integrated, enterprise-scale remote access system, we can connect to your PC and troubleshoot and repair some of the issues.
Please let us know when you need our London HP Pavilion PC repair services. For more information about our services, kindly contact us at 020 7237 6805 or send us an e-mail at info@creativeit.tv.
HP PC Backlight Repair
HP Circuit Board Repair
HP Cooling Fan Repair
HP PC CD ROM Repair
HP Data Recovery Service
HP PC Data Migration
HP PC Data Transfer
HP DC Power Jack Repair
HP PC DVD ROM Repair
HP PC Fix and Repair
HP PC Hard Drive Upgrade
HP PC Hard Disk Repair
HP Hard Disk Data Recovery
HP PC Keyboard Repair
HP PC Maintenance and Repair
HP PC Upgrade
HP LCD Screen Repair
HP PC Motherboard Repair
HP Offsite PC Repair
HP Onsite PC Repair
HP PC Password Removal
HP PC Repair and Upgrade
HP PC Screen Repair
HP PC Service Centre
HP Motherboard Replacement
HP PC Virus Removal