Creative IT UK HP laptop repair store offers a complete HP Pavilion laptop motherboard repair service in the United Kingdom for all models of laptop and notebook computers of the HP Pavilion zx5000, zv6000, zv5000, zt3000, ze5000, ze4000, ze2000, zd8000, zd7000, tx2000, tx1000, m6, g7, g6, dv9000, dv8000, dv8, dv7, dv6000, dv6, dv5000, dv5, dv4000, dv4, dv3000, dv3, dv2000, dv2, dv1000, dm4, dm3 and dm1 series. With skills to carry out motherboard repair jobs down to the component level, we will help with all your laptop hardware issues. We specialise in providing customised HP laptop motherboard repair, replacement and maintenance support for individual and business users across the United Kingdom.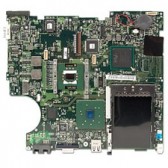 No matter what type of laptop board level issue you are experiencing or liquid damaged motherboard problems, Creative IT UK can help you with expert HP Pavilion laptop motherboard repair and replacement services. Our service technicians will not only help you with the replacement of a damaged or faulty motherboard but can also perform component level repairs to fix a defective motherboard. With the latest diagnostic and repair equipment that allow us to perform the most advanced troubleshooting and repairs including ball grid array (BGA) reballing and reflow service, we ensure a complete solution for your HP Pavilion notebook technical support needs. We also provide quality HP Pavilion laptop motherboard replacement solutions for severely damaged motherboards.
London HP Pavilion Laptop Component Level Motherboard Repair
We offer expert HP Pavilion laptop motherboard repair service for all types of laptop problems such as:
Laptop screen is blank when switched on
Laptop memory slot failure
Laptop overheating causing shut down
Laptop freezes intermittently
CD/DVD drive light flashing constantly
Blue screen of death error
USB ports fail to function
HP Pavilion laptop doesn't turn on or start up
United Kingdom Mail-In HP Pavilion Laptop Motherboard Repair or Replacement  [show]
Bath . Birmingham . Bradford . Brighton and Hove . Bristol . Cambridge . Canterbury . Carlisle . Chester . Chichester . City of London . Coventry . Derby . Durham . Ely . Exeter . Gloucester . Hereford . Kingston upon Hull . Lancaster . Leeds . Leicester . Lichfield . Lincoln . Liverpool . Manchester . Newcastle upon Tyne . Norwich . Nottingham . Oxford . Peterborough . Plymouth . Portsmouth . Preston . Ripon . Salford . Salisbury . Sheffield . Southampton . St Albans . Stoke-on-Trent . Sunderland . Truro . Wakefield . Wells . Westminster . Winchester . Wolverhampton . Worcester . York
Creative IT UK offers specialist laptop motherboard repair and replacement services if the NVIDIA graphics processor or NVIDIA graphics chip in your HP Pavilion notebook has failed. The symptoms include distorted or scrambled video on HP notebook computer screen, intermittent video issues, no video or blank screen on HP laptop, garbled images, random characters, duplicate images, failure to detect wireless adaptor or wireless network, horizontal or vertical lines on the screen and multiple images.
At Creative IT UK, we work in an efficient and timely manner to get your HP Pavilion laptop motherboard repair needs fixed quickly in order to get your computer back up and running efficiently. A 3 month warranty is assured with all our HP Pavilion laptop motherboard replacement services. You can simply mail in your laptop or deliver it directly at our repair store in Central London.
Feel free to call us on 020 7237 6805 with any questions you may have regarding our HP Pavilion laptop motherboard repair services. You can also request a repair quote by emailing us at info@creativeit.tv.