Get your HP Pavilion dv6000 LCD repaired within your means. Please contact Creative IT and enjoy the difference of a dynamic environment. Our technology driven HP Pavilion dv6000 LCD screen repair and replacement services have greater customer credibility and satisfaction.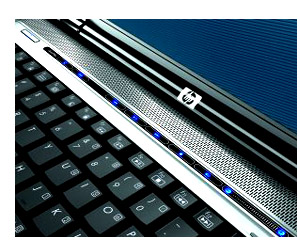 We are a London based laptop repair and servicing company with great experience and professionalism. Individual users, corporate firms, institutions, and government organizations are our reliable customers. Your HP Pavilion dv6000 LCD screen can encounter issues such as display blinking, flickers, lines on the screen, dark display, or blank out. We have all most up-to-date equipments and tools for HP Pavilion dv6000 LCD repair.
Sometimes replacement of LCD polarized glass sheet, backlight, liquid crystal solution layer, controller board, inverter, power supply, and LCD panel are needed if such parts are beyond repair. We do our job perfectly in time and take full responsibility for the work we do. Creative IT is an ideal way out for latest anti-reflection polarizer films and other LCD parts that goes easy with your pocket.
Creative IT offers best quote prior to HP Pavilion dv6000 LCD repair and replacement services for customer knowledge. We always make best effort to give honest pricing and quality HP Pavilion dv6000 LCD screen repair. Cordial customer relationship, time bound service, affordable rates, and high grade performances help us to get a hold in this ever-growing competitive market. You can also sign a maintenance contract to keep away from unexpected laptop LCD screen failures.
Creative IT also excels in repair and replacement of laptop memory, hard drives, keyboards, optical drives, battery, and connectors. If wish to upgrade your LCD screen, just call us for an immediate support.
Please get in touch with our customer support representatives to know more about our HP Pavilion dv6000 LCD screen repair and replacement services at your convenient time. Feel free to dial us at 020 7237 6805 in London, UK or send us an email at info@creativeit.tv for a quick response. Have a hassle free HP Pavilion dv6000 LCD repair service everlastingly.
HP PC Backlight Repair
HP Circuit Board Repair
HP Cooling Fan Repair
HP PC CD ROM Repair
HP Data Recovery Service
HP PC Data Migration
HP PC Data Transfer
HP DC Power Jack Repair
HP PC DVD ROM Repair
HP PC Fix and Repair
HP PC Hard Drive Upgrade
HP PC Hard Disk Repair
HP Hard Disk Data Recovery
HP PC Keyboard Repair
HP PC Maintenance and Repair
HP PC Upgrade
HP LCD Screen Repair
HP PC Motherboard Repair
HP Offsite PC Repair
HP Onsite PC Repair
HP PC Password Removal
HP PC Repair and Upgrade
HP PC Screen Repair
HP PC Service Centre
HP Motherboard Replacement
HP PC Virus Removal