We at Creative IT UK provide all the services and support for your HP laptop motherboard repair requirements. Experience and specialisation in HP laptop repair and laptop motherboard repair techniques has enabled us to provide excellent quality component level services to our clients across the United Kingdom. Supporting business clients, students and residential users alike, we ensure customised services at the most competitive rates for all HP Compaq, ENVY, EliteBook, HP Mini, ProBook, Pavilion and TouchSmart models.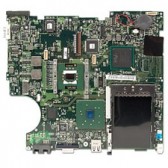 We carefully examine problems with your HP laptop and notebook computer and provide appropriate solutions to improve the operational efficiency of your system. Our HP laptop motherboard repair covers component level technical support by checking all electronic parts including Controller ICs, Power ICs, transistors and BGA chips. By addressing each motherboard issue carefully, we make sure that your system is fixed completely and accordingly perform a quality test to ensure your notebook is running efficiently and smoothly. All our HP laptop motherboard replacement services come with a 90 day warranty for parts and labor.
London HP Laptop Component Level Motherboard Repair
With comprehensive HP laptop motherboard repair and replacement solutions, Creative IT UK can work with all laptop issues such as:
Laptop shuts down intermittently
Laptop screen blank when switched on
Laptop BIOS does not recognise hard drive
No sound / no video
Cannot install operating system on my laptop
Notebook makes beeping noise on startup
CD/DVD drive has disappeared from My Computer
Laptop randomly shuts down or turns off
Overheating HP laptop
Laptop cooling fan failure
HP laptop will not turn on or boot up
NVIDIA graphics processing unit (GPU) failure
HP laptop freezing up randomly
United Kingdom Mail-In HP Laptop Motherboard Repair and Replacement [show]
Bath . Birmingham . Bradford . Brighton and Hove . Bristol . Cambridge . Canterbury . Carlisle . Chester . Chichester . City of London . Coventry . Derby . Durham . Ely . Exeter . Gloucester . Hereford . Kingston upon Hull . Lancaster . Leeds . Leicester . Lichfield . Lincoln . Liverpool . Manchester . Newcastle upon Tyne . Norwich . Nottingham . Oxford . Peterborough . Plymouth . Portsmouth . Preston . Ripon . Salford . Salisbury . Sheffield . Southampton . St Albans . Stoke-on-Trent . Sunderland . Truro . Wakefield . Wells . Westminster . Winchester . Wolverhampton . Worcester . York
Equipped with advanced HP laptop motherboard repair facilities in-house, Creative IT UK aims to complete your repair jobs within the shortest period of time. We understand that our clients have to maintain hectic schedules day-to-day and that's why we provide after hours repairs and weekend services with prior appointment. You can simply drop off your HP laptop computer at our main repair store in Central London or mail in your laptop to us. If you prefer, we can also arrange a pickup and delivery service at a time convenient for you or stop by one of our drop off locations in London.
For a quick HP laptop motherboard replacement quote, please fill in our quick contact form. You can also send your HP laptop motherboard repair requirements to us at info@creativeit.tv or contact us at 020 7237 6805.