HP ENVY Laptop Repair Experts in London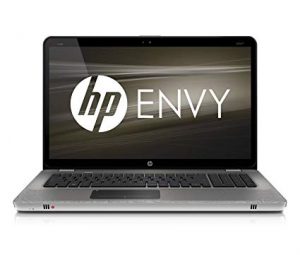 Creative IT is a full service HP laptop repair centre located in Central London and serving customers in the UK for the past 15 years. Our aim is to deliver cost effective HP ENVY laptop repair and upgrade services while ensuring outstanding quality. At Creative IT, our knowledgeable technicians and engineers have good familiarity in troubleshooting and repair of the HP Envy notebook PC series and are dedicated to provide individual and business customers with the best services at highly competitive rates.
Does your HP ENVY notebook shut down or restart unexpectedly without displaying an error message or are you experiencing other issues such as no LED lights glow during startup or boot, HP Envy laptop overheating, display is dim during or after startup or boot, black screen appears during boot but LED does not blink or beep, booting up issues, error message appears during startup, slow performance, hard drive issues, memory (RAM) or motherboard problems; computer may be infected by a virus, worm, adware, spyware or other malicious software; water or liquid spills on your laptop, or is it that some software applications may cause windows to startup or operate slowly? Our laptop service technicians are all set to help you with all your HP ENVY laptop repair needs. They will promptly diagnose your problem and offer you with a quote inclusive of all parts and labour.
We offer quick turnaround repair and upgrade services for all HP ENVY notebook PC series including:
ENVY 4
ENVY 6
ENVY 11
ENVY 12
ENVY 13
ENVY 14
ENVY 15
ENVY 17
ENVY dv6
ENVY dv7
ENVY m6
ENVY Pro
Same Day London HP ENVY Repair and Upgrade
Some of the specialist services that we offer as part of our London HP ENVY laptop repair, replacement and upgrade services include:
HP ENVY keyboard repair and replacement
HP ENVY backlight repair and replacement
HP ENVY LCD screen replacement
HP ENVY hard drive upgrade / replacement
HP ENVY memory (RAM) upgrade / replacement
HP ENVY motherboard repair and replacement
HP ENVY data recovery and data transfer
HP ENVY power supply repair and replacement
HP ENVY graphics card repair and upgrade
Removal of virus / adware / spyware
HP ENVY liquid damage repair
We can professionally troubleshoot and repair all HP Envy laptop motherboards with video and display issues such as duplicate images, random characters on the screen, distorted video, no video on the screen, scrambled video, vertical and horizontal lines on the screen, flickering action, intermittent booting and white lines running across screens.
Professional Service and Affordable Prices
We offer same day HP Envy laptop repair services to customers based in and around London and fast turnaround services to UK customers. We can also arrange professional courier pick up services for those who cannot bring their faulty HP Envy notebook to our Central London repair centre.
To know more about our specialist London HP Envy laptop repair and upgrade services, contact us at 020 7237 6805 or e-mail us at info@creativeit.tv.
We can troubleshoot and repair all models of HP Envy Notebook PCs
HP ENVY 4-1200 Ultrabook
HP ENVY TouchSmart 4-1200 Sleekbook
HP ENVY TouchSmart 4-1200 Ultrabook
HP ENVY TouchSmart Ultrabook 4-1100
HP ENVY Ultrabook 4-1000
HP ENVY Ultrabook 4-1100
HP ENVY 6-1200 Ultrabook
HP ENVY Sleekbook 6-1000
HP ENVY Sleekbook 6-1100
HP ENVY Ultrabook 6-1000
HP ENVY Ultrabook 6-1100
HP ENVY x2 11-g000
HP ENVY 12-e000 x2 Detachable PC series
HP ENVY 12-g000 x2 Detachable PC series
HP ENVY 13-1000 Notebook PC series
HP ENVY 13-1100 Notebook PC series
HP ENVY 13-ab000 Notebook PC
HP ENVY 13-ad000 Laptop PC
HP ENVY 13-ad100 Laptop PC
HP ENVY 13-ag0000 x360 Convertible PC
HP ENVY 13-ah0000 Laptop PC
HP ENVY 13-d000 Notebook PC
HP ENVY 13-d100 Notebook PC
HP ENVY 13-j000 x2 Detachable PC
HP ENVY Spectre XT Ultrabook 13-2000
HP ENVY 14-1000 Notebook PC series
HP ENVY 14-1100 Beats Edition Notebook PC series
HP ENVY 14-1100 Notebook PC series
HP ENVY 14-1200 Notebook PC series
HP ENVY 14-2000 Beats Edition Notebook PC series
HP ENVY 14-2000 Notebook PC series
HP ENVY 14-3000 SPECTRE Notebook PC series
HP ENVY 14-3100 SPECTRE Notebook PC series
HP ENVY 15-1000 Notebook PC series
HP ENVY 15-1100 Notebook PC series
HP ENVY 15-ae000 Notebook PC
HP ENVY 15-ae100 Notebook PC
HP ENVY 15-ah000 Notebook PC
HP ENVY 15-ah100 Notebook PC
HP ENVY 15-aq000 x360 Convertible PC
HP ENVY 15-aq100 x360 Convertible PC
HP ENVY 15-ar000 x360 Convertible PC
HP ENVY 15-as000 Notebook PC
HP ENVY 15-as100 Notebook PC
HP ENVY 15-bp000 x360 Convertible PC
HP ENVY 15-bp100 x360 Convertible PC
HP ENVY 15-bq000 x360 Convertible PC
HP ENVY 15-bq100 x360 Convertible PC
HP ENVY 15-c000 x2 Detachable PC
HP ENVY 15-cn0000 x360 Convertible PC
HP ENVY 15-cp0000 x360 Convertible PC
HP ENVY 15-j000 Notebook PC series
HP ENVY 15-j100 Notebook PC series
HP ENVY 15-k200 Notebook PC (Touch)
HP ENVY 15-k200 Notebook PC series
HP ENVY 15-u000 x360 Convertible PC
HP ENVY 15-u200 x360 Convertible PC
HP ENVY 15-w000 x360 Convertible PC
HP ENVY 15-w100 x360 Convertible PC
HP ENVY TouchSmart 15-j000 Notebook PC series
HP ENVY TouchSmart 15-j100 Notebook PC series
HP ENVY 17-1000 Notebook PC series
HP ENVY 17-1100 Notebook PC series
HP ENVY 17-2000 Notebook PC series
HP ENVY 17-2100 Notebook PC series
HP ENVY 17-3000 Notebook PC series
HP ENVY 17-ae000 Laptop PC
HP ENVY 17-ae100 Laptop PC
HP ENVY 17-bw0000 Laptop PC
HP ENVY 17-j000 Notebook PC series
HP ENVY 17-j100 Leap Motion SE Notebook PC series
HP ENVY 17-j100 Leap Motion TS SE Notebook PC
HP ENVY 17-j100 Notebook PC series
HP ENVY 17-k200 Notebook PC series
HP ENVY 17-n000 Notebook PC
HP ENVY 17-n100 Notebook PC
HP ENVY 17-r100 Notebook PC
HP ENVY 17-r200 Notebook PC
HP ENVY TouchSmart 17-j000 Notebook PC series
HP ENVY TouchSmart 17-j100 Notebook PC series
HP ENVY dv6-7200 Notebook PC series
HP ENVY dv6-7300 Notebook PC series
HP ENVY dv7-7200 Notebook PC series
HP ENVY dv7-7300 Notebook PC series
HP ENVY m6-1100 Notebook PC series
HP ENVY m6-1200 Notebook PC series
HP ENVY m6-1300 Notebook PC series
HP ENVY Pro Ultrabook