Creative IT, a premier IT solution and service provider, offers reliable Hard Drive Data Recovery services in London, UK. Computer data stored in the hard drive can face the danger of being permanently lost due to various reasons. Static electricity, sudden surges in the power voltage, lightning, fires, natural disasters, sabotage, viruses, equipment breakdown, accidents, and errors caused by the user are the major causes for hard disk failure that may cause the data inside the drive to be damaged or lost. However, we at Creative IT use high tech equipment and specialty software to totally recover data from a collapsed hard disk.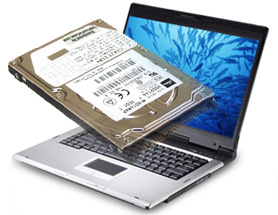 We have years of experience in information technology and computers. This rich experience in IT over the years has enabled our Data Recovery Technicians to gain expertise in using high technology to recover data from all possible computer hard disk failures. Whether it is a single hard disk drive or a multi-disk server RAID array, we've made it possible what other companies say is impossible. Their success rate at Hard Drive Data Recovery Services are nearly hundred percent.
Our engineers and technicians provide their Data Recovery Services on site as well as at our workstation for all operating systems and storage media. Besides Recovering Data from Hard Disks we also offer other services like repair services for computers, servers, notebooks, laptops and more. Only if necessary do we send the hardware to our service lab for expert servicing. All data recovered can be transferred to the medium of your choice.
Creative IT also offers individuals companies and corporate institutions comprehensive computer maintenance contracts which can give clients great piece of mind with regards to their computers. To discover more about how Creative IT can save you time and money on Hard Drive Data Recovery in London, call us now on 0207 237 6805 or email us at: info@creativeit.tv.